Publication:
Efectividad de la inclusión de la punción seca de los puntos de gatillo miofasciales en el dolor tras la cirugía de hombro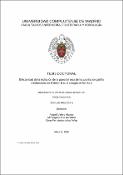 Files
Authors
Editors
Publisher
Universidad Complutense de Madrid
Abstract
Lo que la mayoría de las personas llaman "el hombro" es realmente un conjunto de varias articulaciones que se combinan con tendones y músculos para permitir el movimiento en la extremidad superior, desde rascarse la espalda hasta hacer un lanzamiento de pelota. No obstante, la movilidad puede llevar a problemas como inestabilidad o compresión del tejido blando o las estructuras óseas, con el resultado de dolor, el cual puede aparecer en reposo o en movimiento, continuo o temporal, siendo el dolor de hombro sumamente limitante y molesto para la persona que lo padece. El diagnóstico diferencial del dolor de hombro es a veces difícil debido a que cualquier dolor que se asiente en esta región anatómica afecta a menudo a la articulación de forma que pareciera que en ella tiene su origen. El dolor muscular está presente en el 90% de pacientes que acuden a las clínicas del dolor, y en un alto porcentaje de pacientes que presentan dolor de hombro. Aunque el síndrome de dolor miofascial es una de las causas más frecuentes de dolor músculo-esquelético, algunos autores han cuestionado su propia existencia, a pesar que se estima está presente hasta en un 87% de pacientes que acuden a consultas especializadas de dolor. La musculatura representa el 50% del peso corporal del hombro por lo que su afección debe ser considerada relevante...
Term "shoulder" includes a number of joints combined with tendons and muscles. The shoulder allows movement in the upper extremity, from scratch the back to make a ball throwing. Nevertheless, mobility can lead to problems such as instability or compression of soft tissue or bone structures, resulting in pain. Shoulder pain may occur at rest or in motion, being continuous or temporary, and it can be extremely limiting and annoying for anyone suffering from it. The differential diagnosis of shoulder pain is sometimes difficult due to the fact that any pain that is seated in this anatomical region often affects the related joint in such a way that it seems that it has its origin. Muscle pain is present in 90% of patients attending pain clinics, with a high percentage of patients presenting with shoulder pain. Although myofascial pain syndrome is one of the most frequent causes of musculoskeletal pain, some authors have questioned its existence, despite the fact that it is estimated present in about 87% of patients attending specialist consultations of pain. The musculature represents 50% of the body weight of the shoulder; therefore, this tissue should be considered relevant for this anatomical area. Within the different therapeutic approaches for myofascial pain syndrome, the application deep dry needling or simply dry needling may be effective for the management of these patients. People with high levels of pain after surgery require longer hospitalization, more treatment sessions, take longer to wandering independently and present reduced mobility than those patients who do not experienced intense pain after surgery...
Description
Tesis inédita de la Universidad Complutense de Madrid, Facultad de Enfermería, Fisioterapia y Podología, leída el 25-01-2016
Collections