Publication:
La industria de defensa en la Unión Europea: un análisis E-C-R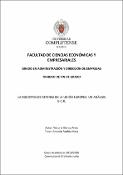 Authors
Advisors (or tutors)
Editors
Abstract
El presente trabajo trata de analizar los rasgos más característicos de la industria europea de defensa a la luz de dos factores. Por una parte el análisis Estructura-Conducta-Resultados tradicional en el estudio de los sectores industriales y, por otra con relación a los profundos cambios que se están dando en el mundo de las políticas de seguridad y defensa de la Unión Europea desde 2016. Así, a partir de la situación actual se trata de analizar cómo evolucionará la industria de defensa en los próximos años, llegando a que la tendencia se orienta hacia un mayor poder de mercado, marcado por un aumento de los oligopolios y monopolios, en parte, ya existentes.
Citation
BAIN, J. S. (1956) Barriers to new competition, Harvard University Press. Cambridge, Mass. BELLOUARD, P. y FONFRÍA, A. (2018) "The relationship between prime contractors and SMEs: how to best manage and fund cooperative programmes". Paris: Armament Industry European Research Group. (ARES Policy Paper 24). CALCARA, A. (2018) "Cooperation and conflict in the European defence-industrial field: the role of relative gains", Defence Studies, 18:4, 474-497. CALVO C. Y FONFRÍA A. (2019) "Cooperación Europea en Defensa: Retos y Oportunidades". Real Instituto Elcano. Madrid. CLARKE, R. (1993) Economía Industrial. Ed. Celeste. Madrid. COM (2016) 950 Final. Comunicación de la Comisión al Parlamento Europeo, al Consejo, al Comité Económico y Social Europeo y al Comité de las Regiones. Plan de Acción Europeo de la Defensa. Bruselas 30 de noviembre. GARCÍA ALONSO, J. M. (2010) La Base Industrial de la Defensa en España. Madrid: Ministerio de Defensa. EDA (2012) Pooling of Demand and Effective Procurement Methods- Common Off-theShelf Procurement: a new EDA Pooling & Sharing Initiative, Brussels. FONFRÍA, A. (2012) "Estructura, Conducta y Resultados de la Industria de Defensa Española", Cuadernos Aragoneses de Economía 14, 2ª época. FONFRÍA, A. (2013) "La Industria de la Defensa: Características y Evolución", en Lecciones de Economía e Industria de Defensa, Fonfría, A. Y Pérez-Fornies, C. (dirs.). CIVITAS-Thomson Reuters, Madrid. FONFRÍA, A. Y CORREA-BURROWS, P. (2010) "Effects of Military Spending in the Profitability of Defence Spanish Contractors" Defence and Peace Economics, 21:2, 177-192. GUAY, T. Y CALLUM, R. (2002) "The transformation and future prospects of Europe´s defence industry "International Affairs 78, 4 (2002) 757-776. HARTLEY, K. (2007) "The arms industry, procurement and industrial policy", en Hartley, K. y Sandler, T. (Eds.) Handbook of Defence Economics, vol. 2, pp. 1139-1176. HARTLEY, K. (2011) The Economics of Defence Policy: A New Perspective. New York: Routledge. MOLAS-GALLART, J. (2007) "Which way to go? Defence technology and the diversity of 'dual-use' technology transfer", Research Policy, 26 (3), 367-385. ROGERSON, W.P. (1989) Profit regulation of defense contractors and prizes for innovation. Journal of Political Economy 97(6) 1284–1305. SEGURA, J. (2006) "Política de defensa de la competencia: objetivos, fundamentos y marco institucional", Ekonomiaz, nº 61, primer cuatrimestre, pp. 16-39. STOCKHOLM INTERNATIONAL PEACE RESEARCH INSTITUTE (2019). SIPRI Yearbook 2019: armaments, disarmament and international security. Stockholm: Oxford University Press. WILLIAMSON, O.E. (1975) "Markets and Hierarchies: Analysis and Anti-trust implications". Free Press, New York.