Publication:
La especulación en el mercado de las zapatillas deportivas: el mercado de la reventa y el mercado de la subasta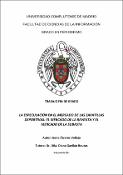 Authors
Advisors (or tutors)
Editors
Abstract
La producción de ediciones limitadas de zapatillas de deporte por parte de las marcas dedicadas al sector de la cultura sneaker ha abierto la posibilidad a nuevos modelos de negocio. Los sneakerheads tienen la oportunidad de hacerse con el par limitado que anteriormente habían deseado y que de otra manera no lo hubieran conseguido. Ahora, los consumidores de sneakers tienen dos opciones a la hora de adquirir las zapatillas de edición limitada: una de manera directa a través de las propias páginas webs o páginas especializadas en zapatillas deportivas, y otra de forma intermediaria a través de páginas web dedicadas a la reventa o a la subasta. La diferencia entre uno y otro, el precio. La investigación incluye el punto de vista de intermediarios y coleccionistas y un completo glosario específico de este fenómeno. El trabajo ofrece así un análisis en profundidad del fenómeno de las zapatillas de deporte de edición limitada y de las estrategias de comercialización que adoptan.
The production of limited editions of sneakers by brands dedicated to the sneaker culture sector has opened the possibility for new business models. Sneakerheads have the opportunity to take on the limited pair they had previously wanted and otherwise would not have succeeded. Now, consumers of sneakers have two options when buying limited edition sneakers: one directly through the own websites or pages specializing in sneakers, and one intermediary through websites dedicated to resale or auction. The difference between one and the other, the price. The research includes the point of view of intermediaries and collectors and a complete glossary specific to this phenomenon. The work thus provides an in-depth analysis of the phenomenon of limited-edition sneakers and the marketing strategies they adopt.
Description
Calificación del Trabajo Fin de Grado: 9