Publication:
Técnicas de aprendizaje para la identificación de rapaces por restos óseos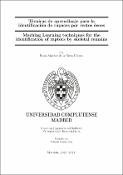 Authors
Advisors (or tutors)
Editors
Abstract
Actualmente, en un mundo tan comprometido por la conservación del medio ambiente, aparecen muchas iniciativas e incluso modos de vida para salvar el planeta, cuidar la Tierra y acciones de cero emisiones contaminantes. En este proyecto queremos centrarnos en la conservación de los ecosistemas autóctonos. El proyecto surge de la necesidad de reconocer los restos óseos de aves muertas que se encuentran en nuestra geografía, de forma rápida y eficaz. La determinación de la especie a partir de los restos óseos es de gran ayuda a las autoridades pertinentes, ya que les permite mantener una estadística actualizada y correcta de la población de aves y determinar los impactos medioambientales que conlleva la humanización de los terrenos. La aplicación se focaliza en la identificación de aves rapaces emblemáticas a partir de sus restos óseos, permitiendo su uso a cualquier usuario con acceso a internet.
Nowadays, in a world so committed to environmental conservation, there are many initiatives and even ways of life to save the planet, take care of the Earth and zero polluting emissions actions. In this project we want to focus on the conservation of native ecosystems. The project arises from the need to recognise the skeletal remains of dead birds found in our geography, quickly and efficiently. Determining the species from the skeletal remains is of great help to the relevant authorities, as it allows them to keep up-to-date and correct statistics on the bird population and to determine the environmental impact of the humanisation of the land. The application focuses on the identification of emblematic birds of prey from their skeletal remains, allowing its use by any user with internet access.
Description
Trabajo de Fin de Grado en Ingeniería del Software, Facultad de Informática UCM, Departamento de Sistemas Informáticos y Computación, Curso 2020/2021.