Publication:
Técnicas matemáticas para diagnosis médica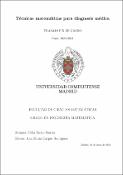 Authors
Advisors (or tutors)
Editors
Abstract
Un diagnóstico correcto es de vital importancia para la vida del paciente, pues de lo contrario se le puede negar una terapia oportuna o administrar medicamentos potencialmente tóxicos. No obstante, en la mayoría de los casos, lograr un diagnóstico certero puede ser de gran complejidad, pues el médico debe tener en cuenta numerosos y complejos factores. A lo largo de este trabajo se verá como, mediante la aplicación de técnicas matemáticas, se puede disminuir la incertidumbre que acompaña a los médicos en la toma de decisiones. Se estudiarán los pasos a seguir en el caso del diagnóstico de la tuberculosis, para después extrapolar los procedimientos seguidos a otras enfermedades infecciosas. En concreto, se indicarán los factores a tener en cuenta para un diagnóstico correcto del COVID-19.
A correct diagnosis is extremely important to the patient's life; otherwise a convenient therapy could be denied to him or he could receive toxic medication. However, most of the time it is incredibly difficult to get an accurate iagnosis, as physicians need to take into account numerous factors. During this project it will be seen how we can apply mathematics to reduce the uncertainty around physicians' decisions. It will be shown what steps must be followed to diagnose active tuberculosis with the goal of being able to follow the same procedure with other infectious diseases such as COVID-19.
Citation
[1] J. F. A. Murphy, A correct diagnosis is of increasing importance, 323 This Month 324 IMJ Commentary, 324, 2016. [2] J. P. Kassirer, Our stubborn quest for diagnostic certainty, 1989. [3] V. Hernández, Estudios epidemiológicos: tipos, dise~no e interpretación, Enfermedad Inamatoria Intestinal al Día 16(3), 98-105, 2017. [4] J. H. Donis, Evaluación de la validez y contabilidad de una prueba diagnóstica, Avances en biomedicina 1(2), 73-81, 2012. [5] J. J. Barendregt, The effect size in uncertainty analysis, Value in Health 13(4), 388-391,2010. [6] A. A. Flores-Ibarra & M. D. Ochoa-Vázquez & G. A. S. Tec, Estrategias diagnósticas aplicadas en la Clínica de Tuberculosis del Hospital General Centro Médico Nacional la Raza, Revista Médica del Instituto Mexicano del Seguro Social 54(1), 122-127, 2016. [7] J. Nyboe, Interpretation of tuberculosis infection age curves, Bulletin of the World Health Organization 17(2), 319-339, 1957. [8] F. Van Leth & M. J. Van der Werf & M. W. Borgdorff, Prevalence of tuberculous infection and incidence of tuberculosis: a re-assessment of the Styblo rule, Bulletin of the World Health Organization 86, 20-26, 2008. [9] D. Menzies & G. Gardiner & M. Farhat & C. Greenaway & M. Pai, Thinking in three dimensions: a web-based algorithm to aid the interpretation of tuberculin skin test results, The International Journal of Tuberculosis and Lung Disease 12(5), 498-505, 2008. [10] M. Farhat & C. Greenway & M. Pai & D. Menzies, False-positive tuberculin skin tests: what is the absolute effect of BCG and non-tuberculous mycobacteria?, The International Journal of Tuberculosis and Lung Disease 10(11), 1192-1204, 2006. [11] L. S. Langa & L. V. Sallent & S. R. Díez, Interpretación de las pruebas diagnósticas de la COVID-19, FMC-Formación Médica Continuada en Atención Primaria 28(3), 167-173, 2021. [12] A. N. Cohen & B. Kessel, False positives in reverse transcription PCR testing for SARSCoV-2, medRxiv, 2020. [13] B. Healy & A. Khan & H.Metezai & I.Blyth & H. Asad, The impact of false positive COVID-19 results in an area of low prevalence, Clinical Medicine 21(1), e54, 2021. [14] Ministerio de Sanidad Espa~na, Información científica-técnica. Parámetros epidemiológicos, 15 de enero de 2021, https://www.mscbs.gob.es/profesionales/saludPublica/ccayes/alertasActual/nCov/documentos/Documento EPIDEMIOLOGIA.pdf 15] O.T. Ng & K. Marimuthu & V. Koh, J. Pang & K. Z. Linn & J. Sun & ... & V. J.Lee, SARS-CoV-2 seroprevalence and transmission risk factors among high-risk close contacts: a retrospective cohort study, The Lancet infectious diseases 21(3), 333-343,2021.