Publication:
La propaganda como desafío para la democracia:la clase política estadounidense y la manipulación de la opinión pública (1919-1941)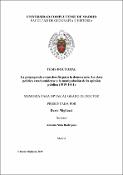 Files
Authors
Advisors (or tutors)
Editors
Publisher
Universidad Complutense de Madrid
Abstract
Durante el periodo de entreguerras los dirigentes nacionales y locales de los Estados Uni-dos de América se enfrentaron a un desafío nuevo y amenazador: el de la manipulación de las masas por parte de políticos, movimientos ideológicos y organizaciones empresariales, un fenómeno que fue percibido como una grave amenaza para el sistema democrático y ca-pitalista. La experiencia propagandística de la Primera Guerra Mundial había dejado un trauma profundo en la sociedad estadounidense. A lo largo de la contienda casi todos los países beligerantes organizaron grandes campañas de propaganda con el fin de desanimar a la población de las naciones enemigas y reforzar los sentimientos patrióticos en el ámbito doméstico. Para llevar a cabo dicha labor el presidente Woodrow Wilson estableció el Com-mittee on Public Information, el primer aparato institucional de propaganda de la historia del país.
During the interwar period, the political leaders of the United States of America faced a new and threatening challenge: The manipulation of the masses by politicians, ideological movements and private corporations. This phenomenon was perceived as a serious menace to the democratic and capitalist system. The propaganda experience of the Great War had entailed a deep trauma for American society. Throughout the conflict, almost all the bellig-erent countries organized large propaganda campaigns in order to both discourage the pop-ulation of enemy nations and reinforce patriotic sentiments in the domestic sphere. In the United States, the Committee on Public Information was established to perform this task. This agency constituted the first institutional propaganda tool in the whole history of the country...
Description
Tesis inédita de la Universidad Complutense de Madrid, Facultad de Geografía e Historia, Departamento de Historia Moderna e Historia Contemporánea, leída el 31-10-2019
Collections