Publication:
Beneficios de la terapia psicológica grupal frente al tratamiento estándar en el abordaje de la obesidad en el área de Vallecas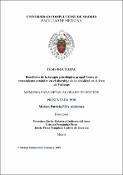 Files
Authors
Editors
Publisher
Universidad Complutense de Madrid
Abstract
La Obesidad se ha convertido en una pandemia que está afectando no solo a la salud física, sino también a la salud mental de la población que la presenta. Según la Encuesta Nacional de Salud 2017, en la población adulta española la prevalencia de obesidad estaba en el 17%, habiéndose incrementado en un 2,5% desde 2006. Se está observando, por tanto, un crecimiento incesante y preocupante, que está teniendo repercusiones importantes en términos de salud, calidad de vida y coste sanitario. La obesidad tiene una etiología y una evolución complejas en las que se combinan factores genéticos, biológicos, ambientales, socioculturales y, naturalmente, varios factores de índole psicológica. De hecho, cada vez son más los estudios que señalan a los factores psicológicos como los causantes de la resistencia al cambio de hábitos de alimentación y ejercicio en personas con obesidad...
Obesity has become a pandemic that is affecting not only physical health, but also mental health of the population that presents it. According to the National Health Survey 2017, in the Spanish adult population the prevalence of obesity was 17%, having increased by 2.5% since 2006. An incessant and worrying growth is therefore being observed, which is having important repercussions in terms of health, life quality and health cost. Obesity has a complex etiology and evolution in which genetic, biological, environmental, sociocultural and psychological factors are combined. In fact, studies increasingly point to psychological factors as the cause of resistance to change in eating and exercising habits in people with obesity...
Description
Tesis inédita de la Universidad Complutense de Madrid, Facultad de Medicina, Departamento de Psiquiatría, leída el 08-11-2019
Collections