Publication:
Tiranía y arbitraje en la fundación del gobierno del self: la facultad del juicio en la teoría política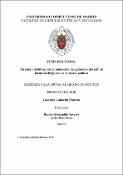 Files
Authors
Advisors (or tutors)
Editors
Publisher
Universidad Complutense de Madrid
Abstract
El trabajo de investigación que aquí presentamos pretende ser un primer paso en el estudio de la facultad del juicio. Para ello se va a poner la atención en una genealogía del arbitraje y la tiranía en su relación con la formación del self. La hipótesis desde la cual se parte es que la facultad del juicio ha sido suplantada por el arbitraje. Este hecho al que se le ha prestado poca atención en la ciencia de lo público merece una reconsideración por el impacto que tiene en la teoría democrática y en los espacios públicos de la ciudad. Por lo tanto nuestro objetivo se va a centrar en dar entrada al mundo interno desde la retórica. Que nos va a permitir analizar el fenómeno del arbitraje y la tiranía como un proceso seminal del ciudadano y de la arquitectura de la ciudad. Con el fin de acometer este examen, se va a plantear la necesidad de retornar al racionalismo clásico y a la antigüedad, donde vamos a poder comprender el germen de fenómenos políticos y productos públicos que se desarrollarán en siglos posteriores...
The PhD dissertation presented here is intended to be a first step in the study of the faculty of judgment. In order to do this, attention will be focus attention to a genealogy of arbitration and tyranny in its relationship with the formation of the self. The hypothesis from which we start is that the faculty of judgment has been supplanted by arbitration. This fact, which has received little attention in the science of the public, deserves reconsideration due to its impact on democratic theory and the public spaces of the city.Therefore our objective is going to focus on giving entry to the internal world from the rhetoric. This will allow us to analyse the phenomenon of arbitration and tyranny as a seminal process of the citizen and the architecture of the city. In order to undertake this examination, the need to recovery to classical rationalism and antiquity will be raised, where we will be able to understand the germ of political phenomena and public products that developed in later centuries...
Description
Tesis inédita de la Universidad Complutense de Madrid, Facultad de Ciencias Políticas y Sociología, leída el 27-11-2019
Collections