Publication:
Análisis de la capacidad discriminativa de distintas variables obtenidas mediante pentacam y SD-OCT cirrus para el glaucoma. Estudio de casos y controles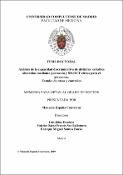 Files
Authors
Advisors (or tutors)
Editors
Publisher
Universidad Complutense de Madrid
Abstract
El glaucoma primario de ángulo abierto (GPAA) puede causar deterioro importante de la visión e incluso ceguera, y su diagnóstico precoz es prioritario para evitarlo, pero actualmente no existe un método diagnóstico único e infalible. La presión intraocular (PIO) se ha mostrado ineficaz como método de cribado. El grosor corneal central (GCC) es un factor de riesgo en pacientes con hipertensión ocular (HTO), aunque no está aclarada su influencia en pacientes con PIO dentro del rango normal. El diagnóstico precoz del GPAA se basa en detectar cambios estructurales antes de que aparezca deterioro funcional. La tomografía de coherencia óptica de dominio espectral (SD-OCT) es una modalidad de imagen no invasiva que permite el análisis estructural automatizado de la retina y nervio óptico, con medidas de probada reproducibilidad; sin embargo, sus resultados no son patognomónicos y el cada vez mayor número de parámetros de OCT para el manejo del glaucoma, puede dificultar la integración de los datos. Hay datos que sugieren que combinando el análisis estructural de córnea con el de estructuras medidas por OCT se puede mejorar la capacidad diagnóstica para el GPAA, pero los estudios al respecto son contradictorios...
Primary open angle glaucoma (POAG) is a leading cause of visual impairment and blindness worldwide. Early diagnosis is key to avoid visual complications, but a single, 100%-reliable, gold-standard diagnostic test is not currently available. Intraocular pressure (IOP) has not proved to be useful as a screening test. Central corneal thickness (CCT) is a well-known risk factor for patients with ocular hypertension (OH), but its influence in patients with normal values of IOP is not clear. Early diagnosis of POAG is based in the detection of ocular structural changes before the advent of visual functional impairment. Spectral domain optic coherence tomography (SD-OCT) provides a non-invasive, automated and quantitative method to accurately assess the structural organization of the retina and optic nerve. However, the outcomes are non-pathognomonic. Moreover, the large number of glaucoma-related parameters yielded by the SD-OCT can hinder the integration of the data. There is growing evidence showing that the combination of the structural analysis of the cornea and SD-OCT measurements can improve the POAG diagnosis...
Description
Tesis inédita de la Universidad Complutense de Madrid, Facultad de Medicina, Departamento de Inmunología, Oftalmología y ORL, leída el 29-11-2019
Collections