Publication:
Evaluación del efecto de una intervención sobre la valoración, evaluación y manejo del dolor en pacientes hospitalizados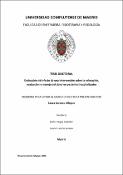 Files
Authors
Advisors (or tutors)
Editors
Publisher
Universidad Complutense de Madrid
Abstract
La alta prevalencia de dolor en la población tiene importantes consecuencias negativas para la persona y para el sistema sanitario. Las acciones dirigidas a mejorar el manejo del dolor agudo y la identificación precoz de pacientes en riesgo de desarrollar dolor crónico, pueden ayudar a avanzar en la prevención y por tanto en la disminución de la prevalencia del mismo. Tras ser identificado como un problema infravalorado e inadecuadamente tratado, en los últimos años se han emprendido políticas para mejorar su abordaje. Diversos estudios resaltan la influencia de una adecuada valoración, evaluación y registro del dolor en el correcto manejo del mismo. El manejo apropiado del dolor es considerado un indicador de buenas prácticas clínicas y atención médica de calidad. En España y en la Comunidad de Madrid, los datos que existen sobre manejo de dolor en el hospital son escasos y poco actualizados...
High prevalence of pain in population has negative consequences for both patients and healthcare system. Actions aimed at improving acute pain management, as well as early identification of patients at risk of developing chronic pain, could help to prevent pain and therefore decrease his prevalence. Pain is an unrecognised and untreated social issue. In the last years policies has been developed to enhance pain approach.Improving pain screening, assessment and documentation has been shown to improve pain management. Adequate pain management is considered an indicator of quality in health care. In Spain, as well as the Community of Madrid, the available information on pain prevalence in hospital is scarce and rather outdated.Therefore, it is important to know how pain is being evaluated and treated in our environment. This knowledge will allow us to identify improvement areas which require an educational intervention in order to increase the quality of care provided to patients in pain...
Description
Tesis inédita de la Universidad Complutense de Madrid, Facultad de Enfermería, Fisioterapia y Podología, leída el 15-07-2020
Collections