Publication:
Htp y šulmānu: dos conceptos para los intercambios de regalos en el Reino Nuevo en las Cartas de El-Amarna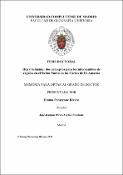 Files
Authors
Advisors (or tutors)
Editors
Publisher
Universidad Complutense de Madrid
Abstract
La investigación resultante en la presente tesis consiste en el diseño de un modelo teórico de los sistemas económicos denominados "intercambios de prestaciones totales" o "intercambios de regalos" y su subsiguiente aplicación a un caso práctico en un momento determinado en el Egipto Antiguo, el cual orientó el fenómeno estudiado en esta investigación. Asimismo la investigación conlleva el estudio de dos términos en las lenguas antiguas empleadas en los contextos geográficos de los que esta tesis hace su objeto, los cuales presentan importantes coincidencias a nivel expositivo con la fórmula definida como "sistema de intercambio de regalos" .La definición de "lo económico" ha llevado a la antropología económica a tratar de buscar los patrones de intercambio empleados por el hombre en distintos momentos y contextos...
The research resulting in the present thesis consists of the design of a theoretical model of the economic systems called "exchange of total prestations" or "gift-exchange" and its subsequent application to a practical case at a specific time in Ancient Egypt, which guided the phenomenon studied in this research. Likewise, the research is followed by the study of two terms in the ancient languages used in the geographical contexts o fwhich this thesis makes its object, which present important coincidences at an explanatory level with the formula defined as the "gift-exchange system".The definition of "the economic" has led Economic Anthropology to try to find the patterns of exchange used by mankind in different moments and contexts...
Description
Tesis inédita de la Universidad Complutense de Madrid, Facultad de Geografía e Historia, leída el 12-02-2021
Collections