Publication:
Microbially induced palygorskite-sepiolite authigenesis in modern hypersaline lakes (Central Spain)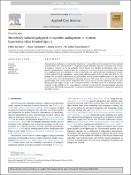 Advisors (or tutors)
Editors
Abstract
This study gives insight into the mechanisms of formation of palygorskite-sepiolite minerals that have remained elusive for many years. The occurrence of palygorskite-sepiolite and minor smectite in association with a variety of authigenic sulphates and Ca-Mg carbonate mineral deposits was identified in silicon-poor, saline to hypersaline ephemeral lakes in Central Spain. By a combination of sedimentological, mineralogical and petrological techniques (XRD, SEM, FEGSEM and TEM) it is shown that very small, poorly ordered palygorskite-sepiolite crystals resulted from the aggregation of nanocrystals within the matrix of the microbial mats (EPS) as it dehydrates. The Mg-rich clays nucleated on Mg-enriched EPS that also contain variable amounts of Si, Mg, Al and Fe, mostly derived from the degradation of siliciclastic minerals. The crystals have a broad compositional and textural range, from poorly ordered palygorskite laths to pure sepiolite bundles, suggesting that they grow through successive stages. Changes in the chemical composition of the fibers occur even at microscale, which is explained by the variability of the biogeochemical conditions prevailing in the microenvironments where the crystals grow. The overall results provide evidence for a biomediated-crystallization of palygorskite-sepiolite in microbial sediments.
Collections