Publication:
El nuevo Reglamento de la Unión Europea sobre bloqueo geográfico y otras formas de discriminación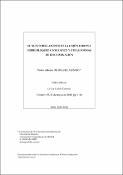 Authors
Advisors (or tutors)
Editors
Abstract
El Reglamento (UE) 2018/302 pretende hacer frente a ciertos obstáculos a las transacciones transfronterizas creados por los comerciantes mediante el bloqueo o la limitación del acceso de clientes de otros Estados miembros a sus sitios web o aplicaciones. Especial interés reviste el ámbito de aplicación de la nueva normativa, el contenido de las obligaciones que impone y las situaciones respecto de las que se proyectan, así como la interacción de esas prohibiciones con exigencias legales o acuerdos que prohíben a los comerciantes vender productos o prestar servicios a ciertos clientes situados en determinados territorios. También merece especial atención la repercusión del nuevo Reglamento sobre el funcionamiento de importantes normas adoptadas por la UE en el marco de la cooperación judicial civil, en especial con respecto a la protección de los consumidores en las situaciones internacionales.
Regulation (UE) 2018/302 aims at preventing obstacles to cross-border transactions that may arise as a result of traders blocking or limiting access to their websites and apps by customers from other Member States. The present analysis focuses on the scope of application of the new rules, the content of the prohibitions they impose and the interplay of such prohibitions with certain legal requirements or agreements that may restrict the trader's ability to sell products or provide services to customers located in certain territories. Moreover, the coordination of the new rules with the provisions of certain EU instruments in the field of judicial cooperation in civil matters, such as the Brussels I bis and the Rome I.
Collections