Publication:
Senescent Microvesicles: A Novel Advance in Molecular Mechanisms of Atherosclerotic Calcification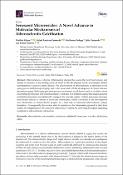 Advisors (or tutors)
Editors
Abstract
Atherosclerosis, a chronic inflammatory disease that causes the most heart attacks and strokes in humans, is the leading cause of death in the developing world; its principal clinical manifestation is coronary artery disease. The development of atherosclerosis is attributed to the aging process itself (biological aging) and is also associated with the development of chronic diseases (premature aging). Both aging processes produce an increase in risk factors such as oxidative stress, endothelial dysfunction and proinflammatory cytokines (oxi-inflamm-aging) that might generate endothelial senescence associated with damage in the vascular system. Cellular senescence increases microvesicle release as carriers of molecular information, which contributes to the development and calcification of atherosclerotic plaque, as a final step in advanced atherosclerotic plaque formation. Consequently, this review aims to summarize the information gleaned to date from studies investigating how the senescent extracellular vesicles, by delivering biological signalling, contribute to atherosclerotic calcification.
Collections