Publication:
The CARMENES search for exoplanets around M dwarfs A Neptune-mass planet traversing the habitable zone around HD 180617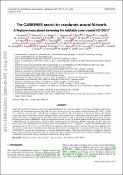 Advisors (or tutors)
Editors
Abstract
Despite their activity, low-mass stars are of particular importance for the search of exoplanets by the means of Doppler spectroscopy, as planets with lower masses become detectable. We report on the discovery of a planetary companion around HD 180617, a bright (J = 5.58 mag), low-mass (M = 0.45 M-circle dot) star of spectral type M2.5 V. The star, located at a distance of 5.9 pc, is the primary of the high proper motion binary system containing vB 10, a star with one of the lowest masses known in most of the twentieth century. Our analysis is based on new radial velocity (RV) measurements made at red-optical wavelengths provided by the high-precision spectrograph CARMENES, which was designed to carry out a survey for Earth-like planets around M dwarfs. The available CARMENES data are augmented by archival Doppler measurements from HIRES and HARPS. Altogether, the RVs span more than 16 yr. The modeling of the RV variations, with a semi-amplitude of K = 2.85(-0.25)(+0.16)m s(-1), yields a Neptune-like planet with a minimum mass of 12.2(1.4)(+1.0) M-circle plus on a 105.90(-0.10)(+0.09) d circumprimary orbit, which is partly located in the host star's habitable zone. The analysis of time series of common activity indicators does not show any dependence on the detected RV signal. The discovery of HD 180617 b not only adds information to a currently hardly filled region of the mass-period diagram of exoplanets around M dwarfs, but the investigated system becomes the third known binary consisting of M dwarfs and hosting an exoplanet in an S-type configuration. Its proximity makes it an attractive candidate for future studies.
Description
© ESO 2018. Artículo firmado por 40 autores. CARMENES is an instrument for the Centro Astronómico Hispano-Alemán de Calar Alto (CAHA, Almería, Spain). CARMENES is funded by the German Max-Planck-Gesellschaft (MPG), the Spanish Consejo Superior de Investigaciones Científicas (CSIC), the European Union through FEDER/ERF FICTS-2011-02 funds, and the members of the CARMENES Consortium (Max-Planck-Institut für Astronomie, Instituto de Astrofísica de Andalucía, Landessternwarte Königstuhl, Institut de Ciències de l'Espai, Insitut für Astrophysik Göttingen, Universidad Complutense de Madrid, Thüringer Landessternwarte Tautenburg, Instituto de Astrofísica de Canarias, Hamburger Sternwarte, Centro de Astrobiología and Centro Astronómico Hispano-Alemán), with additional contributions by the Spanish Ministry of Science through projects AYA2016-79425-C3-1/2/3-P, ESP2016-80435-C2-1-R, and AYA2015- 69350-C3-2-P, the German Science Foundation through the Major Research Instrumentation Programme and DFG Research Unit FOR2544 "Blue Planets around Red Stars", the Klaus Tschira Stiftung, the states of Baden-Württemberg and Niedersachsen, and by the Junta de Andalucía. Based on data from the CARMENES data archive at CAB (INTA-CSIC). N. A. D. acknowledges support from FONDECYT #3180063. Based on observations collected at the European Organisation for Astronomical Research in the Southern Hemisphere under ESO programme(s) 072.C-0488(E), 183.C-0437(A), 191.C-0873(A), 191.C0873(B), 191.C-0873(D), 191.C-0873(E), 191.C-0873(F). Some of the data presented herein were obtained at the W. M. Keck Observatory, which is operated as a scientific partnership among the California Institute of Technology, the University of California and the National Aeronautics and Space Administration. The Observatory was made possible by the generous financial support of the W. M. Keck Foundation. We made use of the corner.py package (Foreman-Mackey 2016). We thank the anonymous referee for useful comments that improved the paper.
Collections