Publication:
Servicios de almacenamiento y tratamiento de datos: el Reglamento (UE) 2018/1807 sobre libre circulación de datos no personales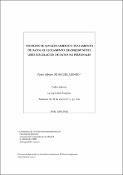 Authors
Advisors (or tutors)
Editors
Abstract
Como complemento a la liberalización del flujo intracomunitario de datos personales, el Reglamento (UE) 2018/1807 establece una prohibición de los requisitos para la localización de datos electrónicos que no tengan carácter personal, que limita la posibilidad de que las legislaciones de los Estados miembros establezcan ese tipo de restricciones a la libertad de localizar y tratar los datos en cualquier lugar de la Unión. El Reglamento establece una liberalización limitada al territorio de la Unión Europea y regula el acceso por las autoridades competentes a datos que sean objeto de tratamiento en otros Estados miembros. El nuevo marco normativo busca eliminar las barreas a la prestación en el seno de la UE de servicios basados en el tratamiento masivo de datos, como es propio de los desarrollados en el ámbito de la inteligencia artificial, el llamado Internet de las cosas o la computación en la nube. El Reglamento contempla también medidas para favorecer la superación de obstáculos que limitan la portabilidad y el traslado de datos por parte de los usuarios profesionales de unos prestadores de servicios a otros.
As a supplement to the free flow of personal data in the European Union, Regulation 2018/1807 establishes a framework for the free flow of non-personal data. Pursuant to the new Regulation, data localisation requirements shall be prohibited, unless they are justified on grounds of public security in compliance with the principle of proportionality. The Regulation cover only the free movement of data within the Union and does not apply to data processing services taking place outside the Union. The new legal framework includes provisions on the availability for competent authorities of data which is located in other Member States. This instrument is a valuable instrument to overcome restriction to the provision at EU level of certain services which involve the cross-border processing of great amounts of electronic data, both personal and non-personal, as it usual of technologies such as artificial Intelligence, Internet of Things and cloud computing. Other measures are aimed at facilitating to professional users the ability to port data and to switch between providers of data processing services.
Collections