Publication:
A Multi-methods Approach in Communication Studies: autoethnography meets qualitative interviews and netnography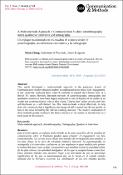 Authors
Advisors (or tutors)
Editors
Publisher
Raúl Eguizabal Maza (UCM)
Abstract
This article developed a multi-methods approach in the particular branch of Communication Studies (fandom studies) to understand transcultural fans' engagement. It has creatively deployed three research methods to unpack the Chinese fans of a British TV series- Sherlock. Research methods of autoethnography, netnography and qualitative interviews have been largely employed to test the loyalty of the author as an acafan (an academic/scholar who is also a fan), Chinese fans' online activity and fans' self-disclosure as a self-claimed fan. The multi-methods worked effectively to help draw the conclusion that a significant percentage of self-claimed fans do not qualify as fans in the sense defined by the relevant existing literature. The creative combination of three methods greatly facilitated the future research of fan studies to identify fans as a focal point of the research.
Este artículo expone un enfoque multi-método en la rama específica de los estudios de comunicación sobre el fenómeno fandom para entender el engagement con fans transculturales. Así, se han desarrollado tres métodos de investigación para analizar a los fans chinos de la serie de televisión británica Sherlock. La autoetnografía, la netnografía y la entrevistas cualitativas se han empleado en gran medida para probar la lealtad del autor como acafán (un académico que también es fan), la actividad online de los fans chinos y la actividad divulgadora de los que se autoproclaman como fans. Estos distintos métodos nos permiten llegar a la conclusión de que un porcentaje significativo de los que se autoproclaman fan, no lo hacen en el sentido estricto utilizado por la literatura existente. La combinación de los tres métodos facilita enormemente las futuras investigaciones sobre los fans, ubicándolos en el punto central de la investigación.
Collections