Publication:
Las construcciones con verbo soporte en latín: una perspectiva diacrónica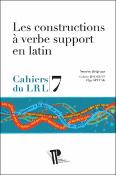 Advisors (or tutors)
Editors
Publisher
Presses Universitaires Blaise Pascal
Abstract
En este trabajo se aborda el análisis de las construcciones con verbo soporte en latín desde una perspectiva diacrónica, con tres objetivos concretos: (i) poner de manifiesto la renovación progresiva de este tipo de colocaciones y las diferencias entre autores, en prosa y en poesía; (ii) destacar su justificación funcional (semántica y morfosintáctica) y (iii) mostrar la necesidad de estudiar de forma conjunta la órbita colocacional de un sustantivo verbal en latín, es decir, no sólo las construcciones con verbo soporte más básicas o prototípicas, sino también aquellas más específicas (las que añaden, por ejemplo, contenidos diatéticos y aspectuales). Para ilustrar estas y otras cuestiones relacionadas, se analizan las colocaciones verbo-nominales más importantes en las que intervienen los sustantivos "odium", "memoria", "insidiae", "proelium" y "vulnus", en un amplio corpus de Plauto a Aulo Gelio.
In this paper, we analyze from a diachronic perspective the constructions with support verb in Latin, with three specific objectives: (i) to demonstrate the progressive renewal of this type of collocations and the differences between authors, in prose and in poetry; (ii) to emphasize its functional justification (semantic and morphosyntactic), and (iii) to show the need to study the collocational orbit of a verbal noun in Latin alltogether, that is, not only the most basic or prototypical support verb constructions, but also those more specific (those that add, for example, diathetic and aspectual contents). In order to illustrate these and other related questions, we analyze the most important verb-nominal collocations involving the verbal nouns "odium", "memoria", "insidiae", "proelium" and "vulnus", in a large corpus from Plautus to Gellius.
Collections