Publication:
Colección Masaveu: Testimonio y modelo hacia nuevas tendencias.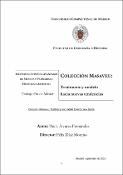 Authors
Advisors (or tutors)
Editors
Abstract
La llegada en 1840 del primer miembro de la familia Masaveu a Asturias marca el origen de esta colección que estudiaremos a través de un análisis multidisciplinar englobando los aspectos económicos, sociales y legislativos que condicionarán su formación y desarrollo. Con ello se pretende establecer un paralelismo entre la historia de la colección y algunos hitos decisivos para la protección del Patrimonio Artístico en la Comunidad Autónoma. Además, estableceremos las diferencias entre los dos núcleos en los que se ha dividido la colección: titularidad pública y titularidad privada.Palabras clave: Restauración, dación en pago, Corporativa, Fundación.
The arrival in 1840 of the first the Masaveu´s family member to Asturias is the origin of this collection that we will study through a multidisciplinary analysis encompassing the economic, social and legislative aspects that will condition its formation and development. This is intended to establish a parallel between the history of the collection and some decisive milestones for the protection of the Artistic Heritage in the Autonomous Community. In addition, we will establish the differences between the two nuclei which the collection has been divided: public ownership and private ownership.