Publication:
Diseño de unidades funcionales cuánticas: un multiplicador logarítmico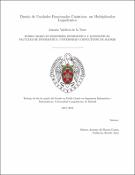 Authors
Advisors (or tutors)
Barrio García, Alberto Antonio del
Editors
Abstract
Los ordenadores cuánticos, aprovechando el sistema de representación cuántico de la información son capaces de realizar tareas inabordables para los ordenadores clásicos. En este texto se explicarán los conceptos y principios básicos de la computación cuántica, se hará una revisión del diseño de algunos de los circuitos aritméticos cuánticos (sumadores y multiplicadores) que existen en la actualidad; y se abordará el diseño de un nuevo multiplicador aproximado basado en el algoritmo de Mitchell.
Quantum computers, taking advantage of the quantum-representation-of-information system, are able to perform tasks that can not be absorbed by classic computers. In this text we will explain the basic concepts and principles of quantum computing, we will make a review of the design of some of the quantum arithmetic circuits (adders and multipliers) that exist nowadays; and the design of a new approximate multiplier based on the Mitchell algorithm will be addressed.
Description
Trabajo de Fin de Grado en Doble Grado de Ingeniería Informática y Matemáticas, Facultad de Informática UCM, Departamento de Arquitectura de Computadores y Automática. Curso 2018/2019