Publication:
Estudio del papel de TLR4 en la transformación hemorrágica e infiltración aguda tras ictus experimental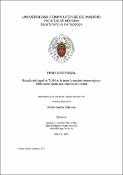 Files
Authors
Advisors (or tutors)
Editors
Publisher
Universidad Complutense de Madrid
Abstract
En los países occidentales, el ictus es la segunda causa de muerte (primera causa entre mujeres en España), la segunda causa de demencia, y la principal causa de discapacidad grave entre los adultos. A pesar de estos datos, las únicas aproximaciones terapéuticas consisten en la recanalización de las arterias obstruidas mediante el tratamiento fibrinolítico a través del activador del plasminógeno tisular (t-PA) (sólo útil entre el 5-10% de los pacientes), o la trombectomía endovascular (Goyal et al., 2016; Hacke et al., 1995). Por ello, es necesario el desarrollo de nuevas terapias neuroprotectoras para el tratamiento en fase aguda de esta patología. Por un lado, el tratamiento con t-PA es utilizado en condiciones muy restrictivas para evitar el fenómeno de transformación hemorrágica (TH), que es la principal complicación de la trombólisis. Dado que la TH, también es una grave complicación después de la trombectomía mecánica (Goyal et al., 2016) se hace necesario la investigación en los mecanismos de TH y en las terapias potenciales que podrían reducir el riesgo de sufrirla, mejorando el pronóstico de los pacientes con esta enfermedad. Además, la aparición de un ictus isquémico, conlleva una cascada de eventos inflamatorios (cascada isquémica) que se inicia en la microvasculatura cerebral, donde el estrés oxidativo y las especies reactivas de oxígeno inducen la activación del sistema del complemento, las plaquetas y las células endoteliales (para revisión ver (Iadecola and Anrather, 2011)). A su vez, a nivel perivascular y del parénquima se produce una respuesta inmune innata que pone en marcha una fuerte respuesta inflamatoria. Uno de los principales tipos celulares responsables de la respuesta cerebral es la microglía, que participa en esta respuesta mediante la producción de mediadores inflamatorios, en gran medida gracias a la señalización intracelular que se pone en marcha tras la activación de los receptores toll-like (TLR)...
In the Western countries, stroke is the second cause of death (the first cause among women in Spain), the second cause of dementia, and the leading cause of severe disability in adults. Despite these data, the only therapeutic approaches are recanalization of blocked arteries by fibrinolytic treatment through tissue plasminogen activator (t-PA) (only useful in 5-10% of patients), or endovascular thrombectomy (Goyal et al., 2016; Hacke et al., 1995). Therefore, it is necessary the development of new neuroprotective therapies for the treatment in the acute phase of this pathology. On the one hand, treatment with t-PA is used in very restrictive conditions to avoid the hemorrhagic transformation phenomenon (TH), which is the main complication of thrombolysis. Since HT is also a serious complication after mechanical thrombectomy (Goyal et al., 2016), it is necessary to investigate the mechanisms of HT and the potential therapies that could reduce the risk of it, improving the prognosis of patients with this disease. In addition, the occurrence of ischemic stroke involves a cascade of inflammatory events (ischemic cascade) that begins in the cerebral microvasculature, where oxidative stress and reactive oxygen species induce the activation of the complement system, platelets and endothelial cells (for review see (Iadecola and Anrather, 2011)). In turn, at the perivascular level and the parenchyma an innate immune response occurs that triggers a strong inflammatory response. One of the major cell types responsible for the brain response is microglia, which triggers the inflammatory response by producing inflammatory mediators, which is done - in part - thanks to intracellular signaling that starts up after activation of toll-like receptors (TLR)...
Description
Tesis inédita de la Universidad Complutense de Madrid, Facultad de Medicina, Departamento de Farmacología, leída el 16-06-2017
Collections