Publication:
Categorías antropológicas en la fenomenología hermenéutica de Paul Ricoeur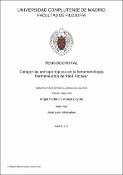 Files
Authors
Advisors (or tutors)
Editors
Publisher
Universidad Complutense de Madrid
Abstract
La presente investigación aborda uno de los problemas fundamentales que ha estado presente a lo largo de la tradición filosófica occidental, y que se resume en la cuestión: ¿Qué es el ser humano? Aunque la respuesta a esta pregunta a lo largo de la historia ha sido múltiple y variada, dos aspectos destacan por su permanencia en dicha tradición. El primero es la visión dicotómica sobre la constitución antropológica que se inicia con la división de cuerpo y alma en Platón. Después se continúa con el hilemorfismo aristotélico-tomista y con el dualismo ontológico de Descartes, cuya influencia se prolonga de diversas maneras hasta la época contemporánea. El segundo es el problema de Dios o la Trascendencia. Esta cuestión, que está presente en distintos sistemas filosóficos, recibe una crítica profunda e incisiva a través de los "maestros de la sospecha": Marx, Nietzsche y Freud. Es en este contexto filosófico donde adquiere relevancia la antropología filosófica que elabora Paul Ricoeur desde un planteamiento fenomenológico-hermenéutico. En consecuencia, y para conocer su propuesta sobre estas dos cuestiones que se encuentran relacionadas entre sí, la presente investigación se propone los siguientes objetivos: el primero, conocer la génesis y desarrollo de su filosofía en tanto fenomenología hermenéutica. El segundo, analizar y sistematizar las categorías antropológicas que se encuentran a lo largo de su obra. Y finalmente el tercero, explorar a manera de hipótesis el problema entre antropología y Trascendencia...
This research approaches one of the key problems that has been present in the Western Philosophical Tradition along the years and which can be summarized in the following question: What is the human being? Historically, there have been many answers to this question but two aspects stand out due to their permanence in such tradition. The first one is the dichotomous vision regarding the anthropological constitution that begins with Plato and his division in body and soul, and continues with the Aristotelian-Thomistic Hylemorphism, as well as with Descartes' Ontological Dualism, whose influence can still be seen in our days. The second aspect is the Problem of God or Transcendence. This point is present in different philosophical systems and receives a profound and incisive criticism by the "Masters of Suspicion": Marx, Nietzsche and Freud. It is in this philosophical context where Paul Ricoeur's Philosophical Anthropology becomes relevant from a phenomenological-hermeneutical approach. Therefore and in order to know Ricoeur's proposal about these two related questions, this research pursues the following objectives: Firstly, we get to know the genesis and development of Ricoeur's philosophy as Hermeneutic Phenomenology. Secondly, we analyze and systematize the anthropological categories that can be found in his work. Finally, we explore as a hypothesis the problem between Anthropology and Transcendence...
Description
Tesis inédita de la Universidad Complutense de Madrid, Facultad de Filosofía, leída el 11/07/2017
Collections