Publication:
La Institucionalidad electoral en México y la construcción de la confianza: una reflexión desde la gobernanza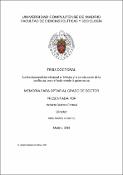 Files
Authors
Advisors (or tutors)
Editors
Publisher
Universidad Complutense de Madrid
Abstract
La "Institucionalidad electoral en México y la construcción de la confianza: una reflexión desde la gobernanza" es un profundo trabajo de investigación que tiene el propósito de conformar un marco que permita un análisis de la realidad electoral que se ha dado en México durante las últimas décadas, a partir de consideraciones que han permitido construir la confianza en la ciudadanía más allá del marco jurídico, legal e institucional, para llegar a una democracia electoral que tiene un amplio componente ciudadano, que trasciende lo partidista y que ineludiblemente se puede abordar desde la gobernanza. La presente tesis doctoral en un primer momento describe las dimensiones de los factores clave que se despliegan en un sistema de gobernanza electoral en un marco de institucionalidad democrática que permite la interrelación y gestión efectiva de los valores que favorecen la confianza de la sociedad y la ciudadanía en los procesos electorales de corte federal. Aquí se establecen los alcances de la investigación, se hace notar que se realizó una investigación bibliográfica acorde y puntual que permite comenzar con los documentos bases para el estudio de los sistemas de gobernanza a fin de poder establecer un metatexto, así como a los autores y referencias bibliográficas que permiten, con posterioridad la formulación de un diseño de modelo de sistema de gobernanza institucional electoral que pueda identificar las dimensiones manifiestas que mejor representan la realidad de los procesos electorales en México a nivel federal; con lo que se desprende la pregunta específica de la investigación ¿Cuáles son las dimensiones de los factores críticos que definen la gobernanza de una institucionalidad electoral? También se presentan tanto el problema de la investigación, como su hipótesis: analizar en términos de gobernanza, elementos institucionales y administrativos del organismo electoral en México, en el proceso electoral 2000, 2006 y 2012, que hagan posible que la consideren como una entidad altamente confiable, en lo relativo a los procesos electorales; que en el marco de una institucionalidad precaria en el ámbito electoral, previo a la creación del Instituto Federal Electoral, se hizo necesario construir un diseño normativo que le diera confianza a los dirigentes partidistas y a los ciudadanos en lo relativo a la organización de elecciones nacionales, respectivamente...
"Electoral Institutions in México and the building of trust: a reflection from governance" is a profound work of research that aims to create a framework that allows an analysis of Mexicós electoral reality in the past decades, based on considerations that have enabled it to build trust among citizens beyond the legal and institutional framework to reach an electoral democracy that has a large citizen component, which transcends political parties and can definitely be approached from the governance. This thesis at first describes the dimensions of the key factors that are deployed in a system of electoral governance in a framework of democratic institutions that allow effective interaction and management of values that favor the citizenshiṕs confidence in the federal electoral processes. Here is where the scope of the research is defined, and in those terms a thorough bibliographic research was carried out to allow us to study de foundation of the governance systems in order to establish a metadata, the authors and bibliographic references that will lead us to the formulation of a model of electoral institutional governance system that can identify the dimensions that best represent the reality of federal electoral processes in Mexico; so the specific research question emerges: What are the dimensions of the critical factors that define governance of electoral institutions? Both the research problem and hypothesis are presented: analyze in terms of governance, institutional and administrative elements of the electoral processes in Mexico in 2000, 2006 and 2012, making it possible for it to be considered a highly reliable entity, in terms of electoral processes; prior to the creation of the Federal Electoral Institute, it became necessary to build a normative design that would provide confidence to party leaders and citizens with regard to the organization of national elections...
Description
Tesis inédita de la Universidad Complutense de Madrid, Facultad de Ciencias Políticas y Sociología, leída el 02-06-2017
Collections