Publication:
Estudio del papel de la molécula CD69 en la regulación de la inflamación y angiogénesis mediante estrategias bioanalíticas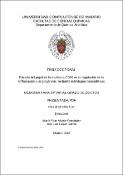 Files
Authors
Advisors (or tutors)
Editors
Publisher
Universidad Complutense de Madrid
Abstract
El antígeno CD69 es una proteína transmembrana expresada en leucocitos tras su activación y que persiste en infiltrados leucocitarios de tejidos inflamados en diversas enfermedades crónicas y autoinmunes. Se ha descrito que los ratones deficientes en CD69 muestran una respuesta inflamatoria exacerbada en modelos animales de estas enfermedades, lo que confiere a esta molécula un importante papel como regulador de la respuesta inmune. En este trabajo hemos analizado el papel inmunomodulador de CD69 en la generación de fibrosis tras diálisis peritoneal, encontrando que este receptor regula el balance entre las células Th17 y T reguladoras (Treg) en enfermedades que cursan con procesos fibro-­‐proliferativos. La inhibición de las repuestas Th17 por CD69 en estos procesos limita la síntesis de citoquinas pro-­‐inflamatorias como el TGFb o la IL-­‐6, íntimamente ligadas a la proliferación de fibroblastos, por lo que los animales deficientes en CD69 presentan una fibrosis severa de la membrana peritoneal, incluso en condiciones urémicas. Los experimentos con animales reconstituidos con precursores hematopoiéticos demostraron que la expresión de CD69 en células linfoides es la responsable del control de los procesos fibro-­‐proliferativos. Las células Treg son esenciales para el mantenimiento de la homeostasis inmune y del control de las células Th17 y su activación exacerbada en reacciones autoinmunes. En esta tesis se ha abordado el estudio del papel de CD69 en la función y la diferenciación de las Treg, así como el análisis de los mecanismos moleculares implicados en estos procesos. Hemos caracterizado una población de células Treg Foxp3+ CD69+ que expresa el receptor de manera constitutiva y que es esencial para el desarrollo de las repuestas reguladoras y la supresión de las células T convencionales in vitro e in vivo...
The CD69 antigen is a transmembrane protein expressed in leukocytes upon activation and that persists in leukocyte infiltrates of inflamed tissues in various chronic and autoimmune diseases. CD69 deficient mice have been reported to exhibit an exacerbated inflammatory response in animal models of these diseases, which gives this molecule an important role as a regulator of the immune response. In this study we have analyzed the role of CD69 in the generation of fibrosis after peritoneal dialysis, and found that this receptor regulates the balance between Th17 and T regulatory cells (Treg) in diseases that occur with fibroproliferative processes. Inhibition of Th17 responses by CD69 in these processes limits the secretion of pro-­‐inflammatory cytokines such as TGFβ or IL-­‐6, intimately linked to fibroblast proliferation, whereby CD69 deficient animals exhibit severe fibrosis of the Peritoneal membrane, even under uremic conditions. Experiments with animals reconstituted with hematopoietic precursors demonstrated that the expression of CD69 in lymphoid cells is responsible for the control of fibroproliferative processes. Treg cells are essential for the maintenance of immune homeostasis and control of Th17 cells and their exacerbated activation in autoimmune reactions. This Thesis has addressed the study of the role of CD69 in the function and differentiation of Tregs, as well as the analysis of the molecular mechanisms involved in these processes. We have characterized a population of Foxp3+ CD69+ Treg cells that expresses the receptor in a constitutive way and is essential for the development of regulatory responses and the suppression of conventional T cells in vitro and in vivo. The expression of CD69 in these cells is accompanied by an increase in the expression of other immunoregulatory receptors such as CTLA-­‐4, GITR or ICOS, an increase in TGFβ secretion and potent suppressor activity. These mechanisms, regulated by CD69 through the activation of ERK and STAT5 pathways, are inhibited after receptor blockade with anti-­‐CD69 antibodies, demonstrating the key role of these molecules in these processes. Adoptive therapy with Foxp3+ CD69+ Treg cells in CD69 deficient animals, with deregulated immunological tolerance, reverses the phenotype of these animals efficiently by preventing inflammation in an asthma model...
Description
Tesis inédita de la Universidad Complutense de Madrid, Facultad de Ciencias Químicas, Departamento de Química Analítica, leída el 16-06-2017
Collections