Publication:
Formas emergentes de creación colectiva en la red: el fenómeno del fanfiction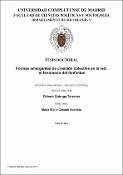 Files
Authors
Advisors (or tutors)
Editors
Publisher
Universidad Complutense de Madrid
Abstract
Tradicionalmente la sociología ha tratado de interpretar las estructuras sociales y culturales que subyacen en la construcción de la dicotomía autor/receptor, incluyéndolas en el debate entre las corrientes hermenéuticas que polarizan la determinación de la estructura frente a la capacidad de acción de los individuos (Fish, 1980). Así, el autor es calificado como baluarte del papel activo de los fenómenos culturales; se le conceptualiza como al genio creador contrapuesto a la recepción pasiva de las audiencias.Aún más, el concepto que la sociología ha venido utilizando sobre la creatividad colectiva en el arte hace referencia a la actividad cooperativa y profesionalizada de los trabajos artísticos (Becker, 2008). La creatividad y acción colectiva de las minorías no profesionalizadas, en los límites por tanto de la industria del entretenimiento, son estudiadas o bien como representantes de subculturas o de la cultura popular, investigadas con un interés casi antropológico (García Canclini, 1989, 2001), o bien como anécdotas ubicadas en determinados momentos socio-históricos que se rescatan del olvido para analizar el por qué no triunfaron o sus tímidas influencias, nunca como corrientes creativas con cierta continuidad; así puede observase en el trabajo de Fiske (2008) en el cual analiza las reinterpretaciones de los individuos, pero no analiza sus continuidades o interacciones con las estructuras de poder. En la actualidad estamos asistiendo al desarrollo de fenómenos culturales que reclaman el papel activo de las audiencias a través de la capacidad creativa y narrativa, esto es, la reapropiación de la capacidad de contar y compartir historias, idearios, cosmologías o mitos, sin importar el medio expresivo que se utilice para ello (escritura, música, diseño digital etc.). Uno de ellos es el fanfiction: historias creadas sin ánimo de lucro por seguidores de determinadas obras literarias, cinematográficas o televisivas y que son publicadas en Internet. El fanfiction es un fenómeno aún en desarrollo, pero que recupera nociones tales como la concepción colectiva del mito y utiliza la narratividad como sistema de articulación de las comunidades virtuales (puesto que la falta de ideologías manifiesta y su concepción de acción social hace que resulte incorrecto el considerarlas como un movimiento.)...
Traditionally, sociology has attempted to interpret the social and cultural structures that underlie the construction of the author / receiver dichotomy, including them in the debate between the hermeneutic currents that polarize the determination of the structure versus the capacity of action of the individuals (Fish, 1980). Thus, the author is described as a bulwark of the active role of cultural phenomena; Is conceptualized as the creative genius opposed to the passive reception of the audience.Moreover, the concept that sociology has been using about collective creativity in art refers to the cooperative and professionalized activity of artistic works (Becker, 2008). The creativity and collective action of non-professionalized minorities, within the limits of the entertainment industry, are studied either as representatives of subcultures or popular culture, investigated with an almost anthropological interest (García Canclini, 1989, 2001) , Or as anecdotes placed in certain socio-historical moments that are rescued from the forgetfulness to analyze why they did not triumph or their timid influences, never like creative currents with certain continuity; This can be seen in the work of Fiske (2008) in which he analyzes the reinterpretations of individuals, but does not analyze their continuities or interactions with the structures of power. At present, we are witnessing the development of cultural phenomena that demand the active role of audiences through creative and narrative capacity, that is, the reappropriation of the ability to tell and share stories, ideologies, cosmologies or myths, regardless of the Expressive medium used for it (writing, music, digital design, etc.). One of them is fanfiction: stories created non-profit by followers of certain literary, cinematographic or television works and that are published in Internet. Fanfiction is a phenomenon still in development, but it recovers notions such as the collective conception of myth and uses narrativity as a system of articulation of virtual communities (since the lack of ideologies manifests and its conception of social action makes it incorrect Considering them as a movement.)...
Description
Tesis de la Universidad Complutense de Madrid, Facultad de Ciencias Políticas y Sociología, Departamento de Sociología V, leída el 03/07/2017
Collections