Publication:
El Pseudo Dionisio Areopagita: desde la hierarchia hasta la theologia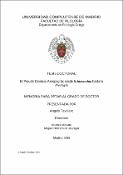 Files
Authors
Advisors (or tutors)
Editors
Publisher
Universidad Complutense de Madrid
Abstract
Por orden del emperador Justiniano (527-565) se celebró en Constantinopla en el año 532 una reunión entre obispos monofisitas y obispos neocalcedonianos para llegar a un acuerdo acerca de las doctrinas cristológicas que continuaban haciendo estragos en las grandes ciudades de Oriente. De hecho, en la primera mitad del siglo V, Eutiques, el archimandrita de un monasterio de Constantinopla, profesó una sola naturaleza divina y una sola persona en Cristo después de la encarnación, lo que a los ojos de los teólogos ortodoxos afectaba a la verdadera humanidad asumida por Dios a través de Su Hijo en el momento de la encarnación.Esta doctrina fue definida 'monofisismo' y fue condenada como herética por el Concilio de Calcedonia (451). A pesar del concilio, la fractura seguía siendo incurable y se concretó en la división entre dos partidos: el de los llamados 'calcedonianos' (ortodoxos y 'duofisitas'), que aprobó la doctrina completa de la doble naturaleza de Cristo expedida por el concilio, y el delos 'monofisitas' o anticalcedonianos que continuaron apoyando la doctrinas de Eutiques. Esta segunda facción estaba presente principalmente en la diócesis más oriental de la que Antioquia era el centro y cuya figura carismática fue el obispo Severo.En Constantinopla, centro del poder político y religioso, el interés que los emperadores manifestaban en las disputas teológicas era muy alto. Poco después del Concilio de Calcedonia, el emperador Zenón (425-491) emitió el llamado Henotikon (482), 'intento de conciliación' entre el monofisismo eutiquiano y la doctrina ortodoxa, tratando de apaciguar las diferentes facciones. Esto no fue suficiente para resolver disputas. Esta línea leve fue superada por el emperador Justino I (518-527), quien derogó el Henotikon (en 519, por la excomunión del patriarca Acacio, quien lo había planeado) y sobre todo por su sobrino y sucesor Justiniano (527 - 565), quien convocó la reunión, lo cual precisamente pasaría a la historia como Collatio cum Severianis (532)...
Convened by emperor Justinian (527-565) in 532 was held in Constantinople a meetingbetween neocalcedonians and monophysite bishops to agree on the christological disputes thatcontinued to rage in the big cities of the East. In fact, in the first half of the V century, Eutyches,the archimandrite of Constantinople monastery was professing the unique and divine nature ofChrist after the incarnation. This doctrine affected the real humanity assumed by God throughHis Son at the moment of the Incarnation for the orthodox theologians. This doctrine was defined'Monophysitism ' and was condemned as heretical by the Council of Chalcedon (451).Despite the council, the fracture remained unfixable and was made up in two parties: theso-called 'Chalcedonian' (Orthodox and 'duofisits') who adopted the complete doctrine of thedual nature of Christ decided by the council, and the 'Monophysites' or anticalcedonians, whocontinued to support the doctrines of Eutyches . This second faction was present mainly in theeastern cities which Antioch was the center among and whose charismatic leaderr was bishopSeverus.In Constantinople, the center of political and religious power, the emperors who expressedinterest in theological disputes were very high. To summarize, after the Council of Chalcedon theemperor Zeno (425-491) issued the so-called Henotikon (482) , 'conciliation tool' made toappease Monophysites and orthodoxes factions. This was not enough. This slight line wasovertaken by the emperor Justin I ( 518-527 ), who repealed Henotikon ( in 519, by theexcommunication of Patriarch Acacius, who had planned it) and especially by his nephew andsuccessor Justinian (527-565) , who called the meeting, which just go down in history as Collatiocum Severianis (532)...
Description
Tesis de la Universidad Complutense de Madrid, Facultad de Filología, Departamento de Filología Griega, leída el 19-06-2014
Collections