Publication:
Essays on information and prediction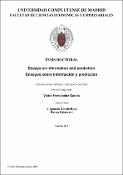 Files
Authors
Advisors (or tutors)
Editors
Publisher
Universidad Complutense de Madrid
Abstract
The dissertation is entitled: "Essays on information and prediction" and consists of a total of four chapters. The central issue is the study of the role that certain mechanisms of aggregation of information, such as predictive markets or elections, can play in improving the accuracy of predictive algorithms. The first chapter of the thesis is entitled: "Economic Determinants of Political Alternation: A Panel Data Analysis of OECD Countries" and studies the relationship between economic performance and political alternation. The initial hypothesis is that the stochastic process that determines the political alternation is not independent of the economy, so that the recent evolution of the macroeconomic variables would be very relevant when explaining the electoral results. We are implicitly considering the "responsibility hypothesis", by which voters are aware of the economic information since they consider that the government is responsible, through its actions, for the good or bad economic situation of the country. In this way, economic variables can predict the probability of political alternation. Throughout the chapter, a critical review of the literature is presented, with special attention to the article Brender & Drazen (2008) and later the estimation of a re-election probability model is proposed, using macroeconomic indicators. The contributions of this chapter to literature are diverse. On the one hand, the results obtained contradict those found in the "economic vote" literature. On the other hand, there are also methodological contributions: the use of a discount rate to allow voters to give more weight to the most recent data, propose an alternative way of measuring political alternation and the use of structural deficit data to solve the problem of multicollinearity between the independent variables...
La tesis doctoral se titula "Ensayos sobre información y predicción" y se compone de un total de cuatro capítulos. El tema central es el estudio del papel que pueden desempeñar ciertos mecanismos de agregación de información, como pueden ser los mercados predictivos o las elecciones, a la hora de mejorar la precisión de los algoritmos predictivos. El primer capítulo se titula: "Determinantes Económicos de la Alternancia Política: Un estudio con datos de panel para los países de la OCDE" y estudia la relación entre la economía y la alternancia política. La hipótesis inicial es que el proceso estocástico que determina la alternancia política no es independiente de la economía, de manera que la evolución reciente de las variables macroeconómicas sería muy relevante a la hora de explicar los resultados electorales. Detrás de esta situación subyace la "hipótesis de la responsabilidad", mediante la cual los votantes están pendientes de la información económica ya que consideran que el gobierno es responsable, mediante sus acciones, de la buena o mala situación económica del país. De esta forma, las variables económicas pueden predecir en parte la probabilidad de alternancia política. A lo largo del capítulo se realiza una revisión crítica de la literatura , con especial atención al artículo Brender & Drazen (2008), y se propone la estimación de un modelo de probabilidad de reelección utilizando para ello indicadores macroeconómicos. Las aportaciones de este capítulo a la literatura son diversas. Por un lado, los resultados obtenidos contradicen a los hallados en la literatura de "voto económico". Por otro lado, también hay aportaciones metodológicas: la utilización de una tasa de descuento para permitir que los votantes den mayor peso a los datos más recientes, una nueva forma de medición de la alternancia política y la utilización de datos estructurales de déficit que solucionen (o al menos mitiguen) el problema de la multicolinealidad entre las variables independientes...
Description
Tesis de la Universidad Complutense de Madrid, Facultad de Ciencias Económicas y Empresariales, leída el 20/03/2018
Collections