Publication:
Efecto de la composición y el tratamiento por altas presiones sobre el perfil de compuestos volátiles y la microbiota del jamón serrano e ibérico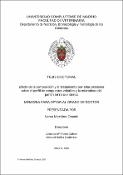 Files
Authors
Advisors (or tutors)
Editors
Publisher
Universidad Complutense de Madrid
Abstract
Los procesos de elaboración de jamón Serrano y jamón Ibérico constan de las mismas etapas desalado, post-salado y secado o maduración, precedidas de un acondicionamiento previo consistente en la recepción, clasificación y pre-salado de los perniles. Sin embargo, existen claras diferencias entre los dos tipos de jamones debidas a la raza, alimentación, manejo del animal, particularidades del proceso de elaboración y duración del periodo de maduración.Entre los atributos de calidad más importantes en el jamón curado destaca su aroma intenso y persistente, debido a compuestos volátiles de bajo umbral de detección generados fundamentalmente durante la etapa de maduración. Entre las principales reacciones bioquímicas que tienen lugar en el jamón a lo largo de su elaboración y maduración destacan la proteolisis, lipólisis, y en menor medida,la glucólisis y la degradación de nucleótidos. Otras reacciones secundarias tales como reacciones de Maillard, degradación de Strecker y oxidación de lípidos y proteínas tienen lugar con los productos dela hidrólisis primaria como sustratos..
The manufacturing process of Serrano and Iberian dry-cured hams is composed of the samestages (salting, post-salting and drying or maturation), preceded by a previous conditioning consistingin the reception, classification and pre-salting of the legs. However, clear differences between bothtypes of ham are due to breed, feeding, animal handling and some variations in the manufacturingprocess and ripening length.The intense and persistent aroma, one of the most important sensory characteristics of dry-curedham, is due to the low detection threshold volatile compounds generated during the ripening stage.During manufacture and ripening, the main biochemical reactions that take place are proteolysis,lipolysis and to a lesser extent, glycolysis and nucleotide degradation. The products generated by thosereactions serve as substrate of secondary reactions such as Maillard reactions, Strecker degradationtogether with lipid and protein oxidation reactions...
Description
Tesis de la Universidad Complutense de Madrid, Facultad de Veterinaria, Departamento de Nutrición, Bromatología y Tecnología de los Alimentos, leída el 29-11-2017
Collections