Publication:
Un nuevo enfoque para la evaluación de la fracción de eyección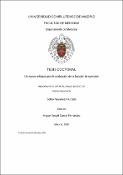 Files
Authors
Advisors (or tutors)
Editors
Publisher
Universidad Complutense de Madrid
Abstract
La evaluación de la función ventricular izquierda es una de las variables más importantes para la toma de decisiones clínicas con implicaciones pronósticas en patología cardiovascular. Se han usado diferentes índices para su medición y diversas técnicas de imagen para la cuantificación de la función sistólica ventricular; pero el índice más ampliamente usado y evaluado es la denominada Fracción de Eyección (FE).La FE es una medida del funcionamiento del ventrículo izquierdo como bomba eyectora de cuya evaluación derivan conductas terapéuticas y elementos pronósticos, por lo que resulta de gran trascendencia clínica que en su evaluación se procure:• Exactitud: lo más cercana posible a su valor real y/o guardar concordancia con el estándar de referencia.• Precisión: el intervalo donde se encuentra su medición sea el mínimo posible.• Mínima incertidumbre: reduciendo las fuentes de incertidumbre subjetivas y/o aleatorias i.e. minimizando la intervención subjetiva relevante del observador y/o reduciendo al máximo la variabilidad intra e inter-observador...
The left ventricle function evaluation is one of the most important variables for clinical decisions with prognostic implications in cardiovascular pathology. Different indexes have been used for its measurement, and different imaging techniques have been used for the left systolic ventricular function measurement; but the most used and assessed index is called the Ejection Fraction (EF). EF is an index to quantify the left ventricle as an ejector pump, from whose evaluation derives therapeutic behaviors and prognostic elements. Therefore, it is of great clinical transcendence that its evaluation seek:• Accuracy: The closer it can get to the real value and/or match the reference standard.• Precision: The interval where its value is, should be the smallest possible.• Minimal Uncertainty: Reducing the subjective and/or random sources of uncertaintyi.e. minimizing the relevant subjective intervention of the observer, and/or reducing to the maximum the intra- and inter- observer variability...
Collections