Publication:
Macrófagos en tolerancia inmunológica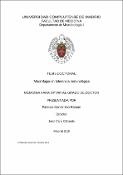 Files
Authors
Advisors (or tutors)
Editors
Publisher
Universidad Complutense de Madrid
Abstract
En estudios previos llevados a cabo en el laboratorio (1) se identificó una población celular derivada de monocitos que se acumulaban en los órganos trasplantados durante tolerancia. La caracterización de este conjunto de células demuestra que fenotípicamente expresan CD11b, receptor del factor estimulante de colonias (CSF1),CD169 y glicoproteínas de superficie de complejo 6 de antígeno linfocitico, locus C(Ly6C) y/o locus G (Ly6G). Ambas proteínas Ly6 forman parte de la súper familia Gr-1.Ly6C se expresa en el 50% de las células T CD8+, neutrófilos y monocitos tanto en médula ósea como en órganos linfoides periféricos y está sobre regulada por interferón alfa (IFN-α), IFN- β e IFN-Ɣ. (2). Por el contrario, Ly6G se expresa principalmente en granulocitos de medula ósea. El análisis genómico revela que estas células CD11b+CSF1R+Ly6CloLy6G-CD169+ aisladas de órganos tolerizados corresponden a macrófagos supresores con capacidad de modificar la respuesta inmune favoreciendo un ambiente inmunodeprimido indispensable para la aceptación de los órganos. La función supresora de esta población celular se basa predominantemente en la capacidad de inhibir la proliferación in vitro de las células T CD8+ y favorecer la inducción de las células T reguladoras (Treg)...
In previously work, our laboratory characterized a monocyte-derived cells population that accumulated in cardiac allograft during tolerance induction (1).This cells population co-expressed CD11b, colony-stimulating factor (CSF1), CD169 and the lymphocytic antigen surface glycoproteins complex 6, locus C (Ly6C) and locus G(Ly6G). Both Ly6 proteins belong to Gr-1 super-family. Ly6C is expressed in the 50% ofCD8+ T cells, neutrophils and monocytes in bone marrow (BM) and periphery lymphoid organs and it is upregulated by IFN-α, IFN- β e IFN-Ɣ (2). On the contrary, Ly6G is mainly expressed in BM derived granulocytes. The gen array reveals that CD11b+CSF1R+Ly6CloLy6G-CD169+ cells isolated from tolerized allograft are macrophages with an immune suppressive function based on the inhibitory capacity of T cell proliferation and favoring the regulatory T cells (Treg) expansion. Mechanistically we demonstrated that dendritic cell-specific ICAM-grabbing non-integrin (DC-SIGN,CD209a) is upregulated in CD11b+CSF1R+Ly6CloLy6G-CD169+ cells, which is implicated in suppressive function and many other immune facet (3). Structurally DC-SIGN is a typeII transmembrane protein with an extracellular carbohydrate recognition domain (CRD) with a strong affinity for high mannose (Man), fucose (Fuc) and N-acetylglucosamine(GlcNAc) glycolipids, localized in either pathogens or self-cells and tissues. DC-SIGNbinds to carbohydrates containing Man or Fuc residues, such as Lewis x (Lex) (4) to regulate the immune function in the suppressive macrophages..
Description
Tesis de la Universidad Complutense de Madrid, Facultad de Medicina, Departamento de Microbiología I, leída el 10-09-2018
Collections