Publication:
Measurement of the large scale anisotropy in cosmic ray electrons, positrons and protons with the AMS-02 detector on the ISS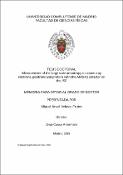 Files
Authors
Advisors (or tutors)
Editors
Publisher
Universidad Complutense de Madrid
Abstract
The field of astroparticle physics started with the discovery of cosmic rays in 1912 by Victor Hess. Cosmic rays, which initially led to important advances in the field of Particle Physics, provide precious information about the violent phenomena in the Universe producing such high-energy particles and the mechanisms of their propagation in the interstellar medium. In the last years, Cosmic Ray Physics has profited from the rise in space research,and space-based experiments are currently providing direct measurements with unprecedent precision. In this context, recent measurements of the spectra of several cosmic ray species cannot be fully explained within the current paradigm of cosmic ray origin and propagation, and constitute an open window into new phenomena. In particular, AMS-02 has provided the most precise measurement of the positron fraction, and the positron and electron fluxes. These results allowed an accurate description of the rise in the positron fraction and led to a plethora of models proposed to explain the so-called positron excess non consistent with the standard secondary origin of antimatter in cosmic rays. For most cases, the observation requires the inclusion of primary sources, which are typically classified into two scenarios: dark matter or astrophysical origin...
El campo de la física de astropartículas comenzó con el descubrimiento de los rayos cósmicos realizado por Víctor Hess en 1912. Los rayos cósmicos, que inicialmente permitieron importantes avances en el campo de la Física de Partículas, proporcionan información fundamental acerca de los fenómenos violentos en el Universo que los originan, y de los mecanismos de propagación en el medio interestelar.En los últimos años, el auge de la investigación espacial ha permitido la construcción de experimentos de rayos cósmicos en el espacio, que actualmente están proporcionando medidas directas con una precisión sin precedentes. En este contexto,medidas recientes en los flujos de diversas especies desafían los actuales modelos de origen y propagación de los rayos cósmicos en la Galaxia.En particular, AMS-02 ha proporcionado medidas precisas en la fracción de positrones y en los flujos individuales de electrones y positrones, que permiten una descripción detallada del llamado exceso de positrones no consistente con un origen exclusivamente secundario de la antimateria en los rayos cósmicos. La mayoría delos modelos propuestos para explicar este exceso requieren la inclusión de fuentes primarias de positrones, típicamente clasificadas en dos escenarios: materia oscura y fuentes astrofísicas...
Description
Tesis de la Universidad Complutense de Madrid, Facultad de Ciencias Físicas, leída el 27-06-2018
Collections