Publication:
Problemas de segmentación y detención de bordes en imágenes digitales con información borrosa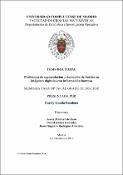 Files
Authors
Advisors (or tutors)
Editors
Publisher
Universidad Complutense de Madrid
Abstract
En esta memoria se presenta en primer lugar, la definición de segmentación borrosa de imágenes basado en teoría de grafos. Para ello, también se define formalmente la segmentación nítida y jerárquica de imágenes. Asimismo, se plantea un algoritmo para construir una segmentación borrosa partiendo de una segmentación jerárquica. Y, se propone una metodología de visualización para la segmentación nítida, jerárquica y borrosa de imágenes. En segundo lugar, se establece una nueva clasificación sobre los problemas de tratamiento de imágenes. En tercer lugar, se diseña un nuevo algoritmo de detección de bordes basado en un agrupamiento jerárquico de grafos, es decir, el nuevo algoritmo genera una salida que corresponde a una secuencia de mapa de regiones jerárquicos representados a través del contorno dichas regiones como un mapa de bordes binario. Además, se formaliza una manera de evaluar las salidas de este nuevo algoritmo con el n de compararlo con otros algoritmos relevantes y muy utilizados en el campo del tratamiento de imágenes.
This work has the purpose, first to define the fuzzy image segmentation concept based on graph theory. To this aim, the concept of crisp segmentation and hierarchical segmentation are formally defined. Furthermore, an algorithmto construct a fuzzy segmentation through hierarchical segmentation was presented. And a visualization methodology for crisp segmentation, hierarchical segmentation and fuzzy segmentation were proposed. Secondly, a new classication of problems of image processing was presented. Thirdly, a new edge detection algorithm is also designed based on hierarchical clustering algorithm. This new algorithm generates an output corresponding to a sequence of hierarchical regions represented through the contour of these regions as a boundary map. In addition, a way to evaluate the outputs of this edge detection algorithm is proposed. This algorithm is evaluated it with other algorithms that are relevant and widely used in the eld of image processing.
Description
Tesis de la Universidad Complutense de Madrid, Facultad de Ciencias Matemáticas, Departamento de Estadística e Investigación Operativa, leída el 05-10-2018
Collections