Publication:
Patronazgo y usos artísticos en la corte de Carlos V: Francisco de los Cobos y Molina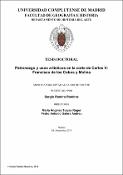 Files
Authors
Advisors (or tutors)
Editors
Publisher
Universidad Complutense de Madrid
Abstract
A caballo entre los siglos XV y XVI, en los albores del estado moderno y la extraordinaria expansión territorial de la monarquía Habsburgo, la historia del secretario y consejero imperial Francisco de los Cobos y Molina (ca.1477-1547) personifica una etapa fundamental de cambio en la corte de la monarquía hispánica. Esta tesis doctoral analiza la labor de patronazgo artístico de este ubetense en paralelo a su ascenso social desde una familia perteneciente a la hidalguía media hasta el establecimiento de un linaje aristocrático con unas rentas equiparables a las mayores casas nobiliarias de su tiempo.El principal objetivo de este estudio de caso fue esclarecer la significación que Francisco de los Cobos otorgó a la inversión en obras plásticas y arquitectónicas con el fin de dotarse de un estatus aristocrático en la corte y generar una nueva casa nobiliaria. Asimismo, me propuse conocer la narración que esos objetos y arquitecturas obtuvieron al colocarse en su órbita y cómo se complementaron entre ellos teniendo su personalidad como único nexo. También, se planteó la necesidad de comprender las distintas motivaciones implicadas en este proceso más allá de su instrumentalización política, entiéndase su uso devocional u otras razones afectivas como, por ejemplo, el recuerdo de un ser querido. Por último, ante la dispersión de la documentación y la disparidad de juicios heredados por la historiografía, esta tesis doctoral se propuso demostrar, en la medida de lo posible, qué obras poseyó y qué decisiones cabe imputarle sobre el patrimonio familiar, separando sus actuaciones de las de su esposa María de Mendoza (1508-1587), figura clave para conocer el devenir posterior de las obras...
Between the Sixteenth and the Seventeenth Century, at the dawn of the Early Modern State and the extraordinary enlargement of Habsburg Monarchy, Francisco de los Cobos y Molina's (ca.1477-1547) history embodies an essential stage of change in the Spanish Monarchy. This PhD dissertion analyze the artistic patronage of this politician from Úbeda. The argument is developed in parallel to his social promotion from a family of hidalgos toward the enactment of an aristocratic lineage as wealthy as the greatest noble houses of its time.The main goal of this case study is to clarify the significance that the investment in fine arts and architecture had for Francisco de los Cobos and how he used them with the aim of reaching the privileged status at Court and to give rise to a new noble household. Likewise, I determined to understand the narrative that his commodities and buildings contribuited to create as well as the way the complemented each other just because he owned them. It was also outlined the necessity of shape the varied reasons involved in this process besides of his political purposes, such as devotional piety or others emotional motives. Finally, owing to the documentary dispersion and disparity of opinions inherited from the preceding historiography, the doctoral thesis aimed to demonstrate, as far as possible, which works of art he owned and which decisions he took over the family heritage. Thus, it would enable to separate his agency from his wife María de Mendoza's (1508-1587) own behaviour, a key figure to comprehend the later fate of the works...
Description
Tesis de la Universidad Complutense de Madrid, Facultad de Geografía e Historia, Departamento de Historia del Arte, leída el 12/12/2018
Collections