Publication:
Assessment of retention of plasma components in tungsten under high flux plasma exposure:multiscale modeling approach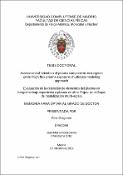 Files
Authors
Advisors (or tutors)
Editors
Publisher
Universidad Complutense de Madrid
Abstract
Nuclear fusion can be regarded as a potentially clean, secure and virtually unlimited source of energy for the future. Currently, the most promising reactor concept – the so-called "tokamak" device employs magnetic confinement of fusion plasma. One of the most ambitious energy-related projects today is the construction of the world's largest tokamak, also known as ITER, "The Way" in Latin. The experimental campaigns planned at ITER aim at testing integrated technologies, materials and physical regimes necessary for commercial production of fusion-based electricity. In other words, ITER aims at bridging the gap between today's smaller fusion devices and the demonstrational power plant of the future, the DEMO reactor...
La fusión nuclear puede ser considerada como potencialmente limpia, segura y virtualmente una fuente ilimitada de energía para el futuro. Actualmente, el concepto mas prometedor – el llamado "tokamak" utiliza el confinamiento magnético del plasma de fusión. Uno de los proyectos mas ambiciosos relacionados con la energía es hoy en día la construcción del tokamak mas grande del mundo, también conocido como ITER, El Camino en Latin. La campaña experimental planeada en ITER tiene como objetivo probar las tecnologías, los materiales y los regímenes físicos necesarios para la producción comercial de electricidad basada en la fusión nuclear. En otras palabras, el objetivo de ITER es de tender un puente entre el dispositivo de fusión mas pequeño que existe hoy y la planta de fusión nuclear del futuro, el reactor DEMO...
Description
Tesis de la Universidad Complutense de Madrid, Facultad de Ciencias Físicas, Departamento de Física Atómica, Molecular y Nuclear, leída el 27-04-2017
Collections