Publication:
Imagen y rol del artista enseñante en la época contemporánea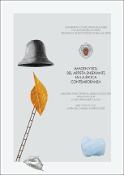 Files
Authors
Advisors (or tutors)
Editors
Publisher
Universidad Complutense de Madrid
Abstract
El proyecto doctoral "Imagen y rol del artista enseñante en la época contemporánea" es un trabajo de investigación que tiene como objetivo el indagar, a nivel general, sobre la formación y la construcción de la figura del artista en la época contemporánea y, a nivel particular, sobre la figura del artista enseñante. La figura del artista, a modo general, surge en su versión moderna como resultado de las construcciones sociales y culturales que se producen a lo largo, principalmente, del siglo XIX, a raíz del desarrollo de diversos conceptos románticos asociados al individuo y a la libertad creativa. Refrendado este arquetipo por las vanguardias, en el siglo XX surge, sin embargo, un modelo de artista que, a través de la educación artística, propone nuevos modos de ser artista y de jugar este rol en la sociedad. Así, el que denominamos "artista enseñante", mantiene una relación ambigua con el modelo moderno de artista, ya que por una parte continúa la trayectoria de este al preservar muchas de sus premisas, mientras que por otra lo rebate al proponer otras formas de actuación y como consecuencia, otro rol...
"Image and role of the artist-teacher in contemporary times" is a PhD project with the aim of investigating, broadly, the formation and construction of the artist figure in contemporary times and, specifically, the figure of the artist teacher. The figure of the artist is in its modern version the result of social and cultural constructions, produced mainly during the 19th century due to the development of romantic concepts linked to the individual and creative freedom. Although this archetype is affirmed by the avant-garde, a new model of artist arises in the 20th century, which proposes, through art education, new ways of being an artist and of playing that role in society. Thus, the so-called artist-teacher maintains an ambiguous relation with the model of the modern artist, since he continues its trajectories by preserving many of its premises while, on the other hand, he refutes it by proposing other ways of acting and, as a consequence, a different role...
Description
Tesis inédita de la Universidad Complutense de Madrid, Facultad de Bellas Artes, leída el 27-06-2019
Collections