Publication:
La Real Sociedad Cosmológica de Santa Cruz de la Palma (museo, biblioteca y centro de estudios locales)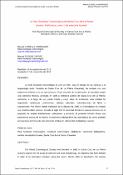 Advisors (or tutors)
Editors
Publisher
Biblioteca Histórica de la U.C.M.
Abstract
La Real Sociedad Cosmológica se creó en 1881 para el estudio de las ciencias y la arqueología local. Fundada en Santa Cruz de La Palma (Canarias), ha contado con una trayectoria brillante a la vez que precaria. Poco después de su gestación, la sociedad acogió una colección libresca, ampliada en 1909 a biblioteca pública de Santa Cruz de La Palma; asimismo, a lo largo de sus ciento treinta y cinco años de existencia, esta entidad ha organizado numerosas conferencias, veladas culturales, presentaciones de libros o exposiciones. Por último, desde mediados de la década de 1990, la Cosmológica ha iniciado una modesta labor editorial. Entrado el siglo XXI, la sociedad afronta los nuevos tiempos con el propósito de ampliar instalaciones, colecciones y servicios. El presente artículo ofrece una panorámica acerca de la historia, el patrimonio bibliográfico, las actividades así como posibles perspectivas de futuro de esta relevante institución cultural del archipiélago canario.
The Royal Cosmological Society was founded in 1881 in Santa Cruz de La Palma (Canary Islands) for the study of sciences and local archaeology. Its trajectory has been brilliant in spite of its precarious situation along the years. Shortly after its foundation, the society acquired a collection of books which was enlarged in 1909 and thus becoming the Public Library of Santa Cruz de La Palma. Likewise, along the 135 years of its existence, this society has organized numerous talks, conferences, cultural events, book presentations and exhibitions. Finally, in the last decade of the 20th century, the Cosmological has initiated a modest editorial work. In the 21st century, the Society heads towards the new times with the purpose to enlarge its installations, collections and services. The present article offers a panoramic view regarding the history, patrimony, activities and the possible perspectives regarding the future of this relevant cultural institution of the Canarian Archipelago.
Collections