Publication:
Spirally polarized beams for polarimetry measurements of deterministic and homogeneous samples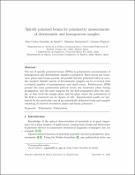 Advisors (or tutors)
Editors
Abstract
The use of spirally polarized beams (SPBs) in polarimetric measurements of homogeneous and deterministic samples is proposed. Since across any transverse plane such beams present all possible linearly polarized states at once, the complete Mueller matrix of deterministic samples can be recovered with a reduced number of measurements and small errors. Furthermore, SPBs present the same polarization pattern across any transverse plane during propagation, and the same happens for the field propagated after the sample, so that both the sample plane and the plane where the polarization of the field is measured can be chosen at will. Experimental results are presented for the particular case of an azimuthally polarized beam and samples consisting of rotated retardation plates and linear polarizers.
Description
® 2017 Elsevier Sci Ltd. This work has been partially supported by Spanish Ministerio de Economia y Competitividad under projects FIS2013-46475 and FIS2016-75147.
Collections