Publication:
Total cross sections for electron scattering by 1-propanol at impact energies in the range 40-500 eV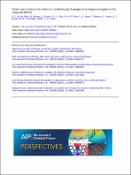 Advisors (or tutors)
Editors
Publisher
American Institute of Physics
Abstract
Absolute total cross section (TCS) measurements for electron scattering from 1-propanol molecules are reported for impact energies from 40 to 500 eV. These measurements were obtained using a new apparatus developed at Juiz de Fora Federal University-Brazil, which is based on the measurement of the attenuation of a collimated electron beam through a gas cell containing the molecules to be studied at a given pressure. Besides these experimental measurements, we have also calculated TCS using the Independent-Atom Model with Screening Corrected Additivity Rule and Interference (IAM-SCAR+I) approach with the level of agreement between them being typically found to be very good. Published by AIP Publishing.
Description
© American Institute of Physics. M.C.A.L. acknowledges financial support from Brazilian Conselho Nacional de Desenvolvimento Cientifico e Tecnologico (CNPq), Fundacao de Amparo à Pesquisa do Estado de Minas Gerais (FAPEMIG), and FINEP, while M.J.B. thanks CNPq for his "Special Visiting Professor" award. Some financial assistance from the Australian Research Council through Grant No. DP160102787 is also noted. Finally, S. Ghosh acknowledges for his grant from PNPD/CAPES, while G. Garcia thanks the Spanish Ministerio de Economia, Industria y Competitividad for his project Grant No. FIS 2016-80440 and the EU Project No. FP7–ITN–ARGENT-608163.
Collections