Publication:
El cooperativismo social como respuesta a la crisis económica en el territorio calabrés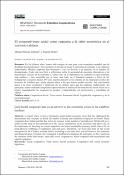 Authors
Advisors (or tutors)
Editors
Publisher
Facultad de Ciencias Económicas y Empresariales. Escuela de Estudios Cooperativos
Abstract
En los últimos años, hemos sido testigos de una gran crisis económica mundial que ha desafiado los mecanismos y los conceptos en los que se basan la economía de mercado y las empresas tradicionales. Muchas empresas han fracasado y esto ha llevado a un aumento en el número de desempleados. Todo esto nos llevó a reflexionar sobre la necesidad de encontrar alternativas a los mecanismos clásicos de la economía y, sobre todo, en la importancia de centrarse en una economía más solidaria y más sostenible que se base, ante todo, en el bienestar psíquico y físico de los trabajadores y usuarios finales. Por ello, nuestra atención se ha centrado en las empresas sociales del territorio de Calabria que, según algunos datos a los que hemos podido acceder, han reaccionado mejor a la crisis económica y financiera de los últimos años que las empresas tradicionales. En particular, hemos realizado una primera aproximación al análisis de la situación del tercer sector en la región, especialmente las cooperativas sociales, comparándolas con asociaciones y sociedades de capital.
In recent years, we have witnessed a great global economic crisis that has challenged the mechanisms and concepts on which the market economy and traditional companies are based. Many companies have failed and this has led to an increase in the number of unemployed. All this led us to reflect on the need to find alternatives to the classic mechanisms of the economy and, above all, on the importance of focusing on a more supportive and more sustainable economy based, above all, on peak-physical wellbeing of employees and end users. Therefore, our focus has been on the social enterprises in the Calabria territory which, according to our data, have reacted better to the economic and financial crisis of recent years compared to traditional companies; In particular, we have analyzed the situation of the third sector, especially social cooperatives, when compared with associations and capital companies.
Citation
Alleanza delle Cooperative Italiane (2016) Il sistema cooperativo della Calabria (2008-2014) Rapporti Regionali Aprile 2016. Autori Vari (2016) La grande riforma, inVita, Rivista sul Terzo Settore. Settembre 2017, pp. 23-57. Borzaga, C. y Fontanara, E. (2015) Cooperative e società di capitali: due modi diversi di reagire alla crisi. Euricse Terzo rapporto sulla cooperazione italiana 2015 "Economia cooperativa. Rilevanza, evoluzione e nuove frontiere della cooperazione italiana", Nº 3 pp 141-151. Camera di Commercio di Reggio Calabria (2012) Il Terzo Settore in provincia di Reggio Calabria. Rapporto di ricerca. Reggio Calabria: Camera di Commercio di Reggio Calabria. EUROSTAT (2018) Unemployment in the UE regions in 2017. Consultado 5/12/2018: https://ec.europa.eu/eurostat/documents/2995521/8830865/1-26042018-APEN.pdf/bb8ac3b7-3606-47ef-b7ed-aadc4d1e2aae. Forum Nazionale del Terzo Settore (2017) Il terzo settore e gli obiettivi di sviluppo sostenibile. Consultado 5/12/2018: http://www.forumterzosettore.it/documenti/il-terzosettore-e-gli-obiettivi-di-sviluppo-sostenibile/. GECES Report (2016) Social enterprises and the social economy going forward. Bruxelles: European Commission. Info Camere-Camere Commercio D'Italia, Report con dati strutturali anni 2012-2014-2016-2017. http://www.infocamere.it/. Info Cooperazione (2015) Portale delle Province Autonome di Trento E Bolzano. La cooperazione nell'italia del XIX secolo tra crisi e sviluppo. http://www.infocooperazione.it/. Istat (2017) Censimento permanente delle Istituzioni non profit. Primi risultati. Consultado 5/12/2018: https://www.istat.it/it/files/2017/12/Nota-stampa-censimento-non-profit.pdf. Italia (2017) Dlgs n. 418 del 19 maggio, 2017. Revisione della disciplina in materia di impresa sociale (418). Italia. (2001) Legge 3 aprile 2001, n. 142. Revisione della legislazione in materia cooperativistica, con particolare riferimento alla posizione del socio lavoratore, pubblicata nella Gazzetta Ufficiale n. 94 del 23 aprile 2001. Peruzzi, Gaia (A cura) (2017) Le reti del terzo settore- Terzo Rapporto, I Libri del ForumForum Nazioanle del Terzo Settore. Roma: Edizioni Forum Terzo Settore. Rensi, S. y Zandonai, F. (2015) Per chi e per quanti opera la cooperazione, EURICSE, Terzo Rapporto Euricse, pp. 309-330. Sapelli, G. (2006) Il futuro dell'impresa cooperativa. Trento: Einaudi, 105 pp. Unionacamere Calabria (2016) Rapporto economico sulla Calabria 2016. Collana dell'Ufficio Studi di Unioncamere Calabria, 45 pp.
Collections