Publication:
Multiplexed Electrochemical Immunosensors for Clinical Biomarkers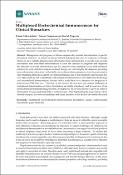 Advisors (or tutors)
Editors
Abstract
Management and prognosis of disease requires the accurate determination of specific biomarkers indicative of normal or disease-related biological processes or responses to therapy. Moreover since multiple determinations of biomarkers have demonstrated to provide more accurate information than individual determinations to assist the clinician in prognosis and diagnosis, the detection of several clinical biomarkers by using the same analytical device hold enormous potential for early detection and personalized therapy and will simplify the diagnosis providing more information in less time. In this field, electrochemical immunosensors have demonstrated to offer interesting alternatives against conventional strategies due to their simplicity, fast response, low cost, high sensitivity and compatibility with multiplexed determination, microfabrication technology and decentralized determinations, features which made them very attractive for integration in point-of-care (POC) devices. Therefore, in this review, the relevance and current challenges of multiplexed determination of clinical biomarkers are briefly introduced, and an overview of the electrochemical immunosensing platforms developed so far for this purpose is given in order to demonstrate the great potential of these methodologies. After highlighting the main features of the selected examples, the unsolved challenges and future directions in this field are also briefly discussed.
Collections