Publication:
Aportes a una antropología feminista de la salud: el estudio del ciclo menstrual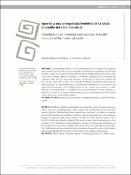 Advisors (or tutors)
Editors
Publisher
Universidad Nacional de Lanús
Abstract
La antropología médica o de la salud centrada en el estudio de las mujeres sigue constituyendo una de las áreas principales del quehacer antropológico en el Estado español. A partir de los aportes de dos referentes de la antropología feminista de la salud como Marcia Inhorn y Mari Luz Esteban, se revisan los hallazgos de una investigación cualitativa sobre del ciclo menstrual, en la que se realizaron 20 entrevistas a mujeres de 16 a 44 años, entre 2013 y 2014, en el municipio de Madrid. El análisis muestra cómo la menstruación es un claro ejemplo de la esencialización reproductiva de las mujeres, del reduccionismo biológico, de la medicalización de los cuerpos de las mujeres y, sobre todo, de su uniformización. La visibilización y cuestionamiento de estos supuestos, a través de las voces de las mujeres entrevistadas, pone de manifiesto la relevancia de este campo dentro de la antropología médica.
Medical or Health Anthropology focused on the study of women continues to be a main area of anthropological study in Spain. The contributions of two referential figures in feminist health anthropology, Marcia Inhorn and Mari Luz Esteban, are applied to review the findings of a qualitative research study on the menstrual cycle carried out through 20 interviews with women between the ages of 16 and 44 years, between 2013 and 2014, in the municipality of Madrid. The analysis shows that menstruation is a clear example of the reproductive essentialization of women, of biological reductionism, of the medicalization of women's bodies and, above all, of the standardization of bodies. The visibilization and questioning of these assumptions through the voices of the women interviewed highlight the importance of this field within medical anthropology.
Collections