Publication:
Algunas notas críticas para la edición de la versión latina de la "Ética" aristotélica de Leonardo Bruni y la versión castellana de Carlos de Aragón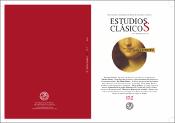 Advisors (or tutors)
Editors
Publisher
Sociedad Española de Estudios Clásicos
Abstract
El estudio versa sobre la versión latina de la "Ética a Nicómaco" de Aristóteles realizada por Leonardo Bruni en 1416. A pesar de su notoriedad por las controversias que suscitó, dicha versión latina no cuenta hasta el momento con una edición crítica moderna. Se analizan aspectos de la tradición manuscrita, que cuenta con más de doscientos códices, con el objeto de, por un lado, exponer los puntos clave para la edición crítica que se está llevando a cabo y, por otro, de determinar los posibles modelos latinos subyacentes de la versión castellana que realizó Carlos de Aragón, príncipe de Viana, en torno a 1457.
The study aims to research the Latin version of the "Ethics to Nicomachus" of Aristotle made by Leonardo Bruni in 1416. Despite its notoriety by the controversies that it provoked, this Latin version has not yet received a modern critical edition. Diferent aspects of the handwriten tradition, which comprises more than two hundred codices, are being studied to expose the new critical edition key points, and, also, to determine the possible underlying Latin models that can be found in the Spanish version of the work made by Carlos de Aragón, Prince of Viana, around 1457.
Collections