Publication:
Desarrollo de una aplicación informática para el análisis de imágenes térmicas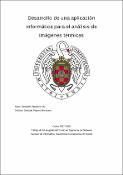 Files
Authors
Advisors (or tutors)
Editors
Abstract
En el campo de la percepción computacional y más concretamente en el ámbito de la Visión por Computador, uno de los principales campos es el análisis del movimiento en la escena, bien por parte de los objetos en ella, por el movimiento de la cámara o por ambos a la vez. En el presente trabajo se desarrolla una aplicación informática con el objeto de detectar el movimiento entre dos imágenes consecutivas, extraídas de un vídeo captado con una cámara termográfica, para su posterior uso en tareas tales como vídeovigilancia o monitorización de objetos basadas en diferencias térmicas de los elementos en movimiento respecto de la escena. Con este fin, se han aplicado métodos propios de procesamiento de imágenes con técnicas de programación basada en los principios de la Inteligencia Artificial para crear una aplicación que permita obtener resultados para los objetivos planteados. El desarrollo de la aplicación se realiza en lenguaje de programación Matlab, para procesar dos imágenes consecutivas de una secuencia utilizando el método de LucasKanade, junto con técnicas multi-umbral, lo que permite la detección del movimiento, junto con la estima de la magnitud y sentido de éste, en lo que técnicamente se conoce como flujo óptico. Más específicamente, la aplicación consta de dos fases, de forma que en la primera se detecta el movimiento y su intensidad mediante Lucas-Kanade y en la segunda los objetos que aparecen en la zona de movimiento mediante las técnicas de umbralización.
In the field of computational perception and more specifically in the field of Computer Vision, one of the main fields is the analysis of movement in the scene, either by the objects in it, by the movement of the camera or by both at the same time In the present work a computer application is developed in order to detect the movement between two consecutive images, extracted from a video captured with a thermal camera, for its later use in tasks such as video surveillance or monitoring of objects based on thermal differences of the elements in movement with respect to the scene. To this end, methods of image processing with programming techniques based on the principles of Artificial Intelligence have been applied in order to create an application that allows obtaining results for the proposed objectives. The development of the application is done in Matlab programming language, to process two consecutive images of a sequence using the Lucas-Kanade method, together with multi-threshold techniques, which allows the detection of movement, together with the estimation of the magnitude and sense of it, in what is technically known as optical flow. More specifically, the application consists of two phases, so that in the first movement and intensity is detected by Lucas-Kanade and in the second the objects that appear in the movement zone by means of thresholding techniques.
Description
Universidad Complutense, Facultad de Informática, curso 2017/2018