Publication:
Efectos de la imposición sobre las decisiones de inversión en activos financieros: microsimulación a partir de la encuesta financiera de las familias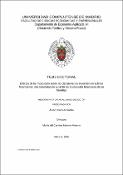 Files
Authors
Advisors (or tutors)
Editors
Publisher
Universidad Complutense de Madrid
Abstract
Los impuestos introducen importantes efectos sobre las decisiones económicas. Es importante evaluar estos efectos porque el comportamiento de los agentes económicos incide sobre las economías y el bienestar. La teoría de la imposición sugiere cómo afectan los impuestos a las decisiones individuales, sin embargo, no muestra respuestas contundentes, siendo imprescindible la evidencia empírica. Existe una larga lista de cuestiones destacables para evaluar el comportamiento económico ante la imposición. En el presente trabajo tratamos de dar respuesta a la pregunta de cómo afectan los impuestos a la tenencia de activos financieros. A diferencia de los trabajos existentes en este campo, nuestra investigación destaca por ser novedosa y original en varios aspectos. Algunos de ellos son la construcción de una base de microdatos con información fiscal y patrimonial, la adaptación metodológica y la elaboración de nuevos métodos de análisis, que se complementan, y permiten confrontar objetivos, criterios y resultados. El objetivo fundamental de la presente tesis es contrastar empíricamente la hipótesis de que los impuestos afectan a la composición de cartera de los individuos. A tal fin, se plantean diversas tareas que estructuran la presente investigación. De forma resumida, podemos destacar a) determinar las variables teóricas relevantes y cuándo la literatura no ofrece respuestas contundentes, b) identificar los métodos de trabajo apropiados para este trabajo, adaptar las metodologías y construir nuevas herramientas, c) obtener una base de datos reales, con la información necesaria a nivel desagregado, d) analizar la incidencia de la imposición personal en los rendimientos del capital, e) evaluar la neutralidad impositiva para las rentas del ahorro, y f) delimitar los factores explicativos en las decisiones de inversión en activos financieros. Este trabajo elabora un marco teórico imprescindible para el logro de los objetivos propuestos. Asimismo, incorpora una revisión bibliográfica de los trabajos más importantes a nuestro alcance, sus resultados y métodos empleados. A lo largo de la tesis se conjugan aspectos de fiscalidad, legislación, econometría y programación, entre otros...
Taxes introduce significant effects upon economic decisions. It is important to assess these effects because the behavior of economic agents impacts the economies and welfare. Taxation theory suggests how taxes affect individual decisions, however does not display conclusive answers, empirical evidence is essential. There is a long list of outstanding issues for evaluating economic performance against fiscal imposition. In this thesis we try to answer the question of how taxes affect the holding of financial assets. Unlike existing articles in this field, our research is notable for being innovative and original in several respects. Some of them are building a base of microdata with fiscal and patrimonial information, adaptation of methodologies and the development of new methods of analysis, that complement each other, and allow you to deal with objectives, criteria and results. The main objective of this thesis is to empirically test the hypothesis that taxes affect the composition of portfolio. For this purpose, there are various tasks that structure this research. In a Summarized way, we can highlight a) to determine the relevant theoretical variables and when literature does not offer conclusive answers, b) identify working methods appropriate for this work, adapt methodologies and build new tools, c) get a database, with disaggregated information, d) analyze the incidence of personal taxation in the income from the capital, e) to assess tax neutrality for income from savings, and f) delimit the influential factors in the decisions of investing in financial assets. This work develops a theoretical essential framework for the achievement of the proposed objectives. It also incorporates a bibliographical review of the most important works available to us, their results and the methods used. Throughout the thesis we combine aspects of taxation, legislation, econometrics and programming, among others. The methodology comes from several different routes. On the one hand, new expressions from different authors original equations are obtained, and on the other hand, original processes in microeconometrics have been conducted...
Description
Tesis inédita de la Universidad Complutense de Madrid, Facultad de Ciencias Económicas y Empresariales, Departamento de Economía Aplicada VI (Hacienda Pública y Sistema Fiscal), leída el 20-11-2015
Collections