Publication:
Arbitrabilidad en los litigos internacionales con indicios de cohecho y corrupción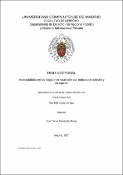 Files
Authors
Advisors (or tutors)
Editors
Publisher
Universidad Complutense de Madrid
Abstract
El objetivo general de la presente tesis es la elaboración de un es-tudio sistemático y crítico de los problemas y las consecuencias jurídicas que están provocando la corrupción en el arbitraje inter-nacional. A través de las siguientes páginas se pretenderá eludir, lo máximo posible, la simple exposición de los problemas objeto de investigación, procurando realizar un discurso en el que incluso en algunas ocasiones, la doctoranda se atreve a exponer alguna nueva teoría en un campo tan arduo como es el de la arbitrabilidad en los litigios internacionales con indicios de cohecho y corrupción. Para poder entender el verdadero alcance y las repercusiones que los actos de corrupción provocan en la práctica arbitral ha sido ne-cesario examinar toda la legislación promulgada por distintos orga-nismos internacionales sobre esta materia, las diferentes sentencias sobre esta materia y los laudos arbitrales emitidos por las distintas instituciones. En dicho estudio se ha podido observar unas tenden-cias arbitrales adoptadas frente a las distintas tipos de corrupción llevadas a cabo dentro de los negocios internacionales. No existiría dicha línea arbitral si los distintos organismos internacionales no hubieran trabajado hacia la adopción de nuevos instrumentos jurí-dicos de ámbito transnacional, regional o nacional en la lucha con-tra la corrupción...
The main objective of this thesis is to develop a systematic and critical study to specific issues in international arbitration law and practice. Through the following pages, this PhD student pretend avoid, as much as possible, simple exposure of the problems under investigation, trying to make a speech in which even occasionally, doctoral student dares to expose some new theory on such an ardu-ous field as is the arbitration in international disputes with evidence of bribery and corruption. This thesis is organized in three distinct parts: Part I analysis the phenomenon of corruption in foreign investment and the various international efforts to control transnational corruption. Chapter 1 study some international anti-corruption conventions. Governments across the world have strengthened national anti-corruption legisla-tion. This concern can be traced back to the mid-1970, when some scandals involving the bribery of foreign government officials by American business moved to American Government enacted The Foreign Corrupt Practices Act (FCPA) for the purpose to fight against corruption. The 1990s , there was an important time of the initiatives against corruption, the most important Convention Against Corruption are: Inter-American Convention Against Cor-ruption (adopted on March 29, 1996); OECD Convention on Com-bating Bribery of Foreign Public Officials, (signed on December 17, 1997); Criminal Law Convention on Corruption - Council of Europe (adopted on November 4, 1998); Civil Law Convention on Corruption (adopted on November 4, 1999); The United Nations Convention against Transnational Organized Crime (adopted on November 15, 2000); United Nations Convention against Corrup-tion was adopted by the General Assembly of the United Nations on 31 October 2003; African Union Corruption Convention The African Union (AU) Convention on Preventing and Combating Corruption, adopted in 2003...
Description
Tesis inédita de la Universidad Complutense de Madrid, Facultad de Derecho, Departamento de Derecho Internacional Público y Derecho Internacional Privado, leída el 15-12-2015
Collections