Publication:
Efecto del consumo intensivo y repetido de etanol sobre la integridad de la barrera hematoencefálica. Implicación de los receptores toll-like 4 (TLR4)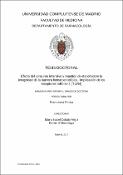 Files
Authors
Advisors (or tutors)
Editors
Publisher
Universidad Complutense de Madrid
Abstract
La presente Tesis Doctoral consiste en el estudio de los efectos producidos por el consumo intensivo y repetido de etanol sobre la barrera hematoencefálica (BHE) en ratones adultos jóvenes y la implicación del receptor Toll-like 4 (TLR4). La BHE puede definirse como una propiedad funcional de los vasos sanguíneos que limita de manera selectiva el intercambio de iones y moléculas orgánicas entre el plasma sanguíneo y el líquido intersticial cerebral regulando de esta manera la concentración de los compuestos endógenos y exógenos asegurando la homeostasis cerebral e impidiendo el ingreso de sustancias toxicas en el cerebro. La unidad funcional de la BHE es la unidad neurovascular, formada por matriz extracelular, células endoteliales, pericitos, astrocitos, microglia y neuronas. Las células endoteliales de la BHE están unidas a través de uniones estrechas que eliminan de manera eficaz el transporte paracelular y constituyen la pared de los capilares cerebrales. Todos los tipos de transporte existentes son casi exclusivamente transcelulares y pueden realizarse por varias rutas, difusión pasiva, a través de los trasportadores ABC o SCL. Las células endoteliales interaccionan con los pericitos que son los que le proporcionan estabilidad mecánica y están rodeados por la lamina basal, una matriz extracelular que proporciona soporte físico a las células endoteliales y a los pericitos y que está compuesta por laminina, fibronectina, colágeno tipo IV y proteoglicanos. Las células endoteliales interaccionan también con los pies astrocitarios que abrazan los capilares y son fundamentales en la estructura de la unidad neurovascular. La lamina basal ayuda la formación de las uniones estrechas y su alteración está asociada con el aumento de permeabilidad de la BHE. Entre los factores que degradan la BHE están las enzimas metaloproteinasas y en particular, se ha observado como en una gran variedad de patologías hay un aumento de las gelatinasas MMP-9, MMP-2 y de la stromielosina MMP-3, aumentos que conducen a una mayor permeabilidad de la BHE...
The current Ph.D. thesis studies to effects of intensive and repeated ethanol consumption on the blood-brain barrier (BBB) in young adult mice and the involvement of the Toll-like receptor 4 (TLR4) in these effects. The BBB can be defined as a functional property of brain blood vessels which selectively limits the exchange of ions and organic molecules between blood plasma and cerebral intersticial fluid so regulating the concentration of endogenous and exogenous and thus ensuring brain homeostasis and preventing the entry of toxic substances into the brain. Transport in the brain is exclusively transcellular and can involve various different routes such as passive diffusion or by means of the ABC or SCL transporters. The functional unit of the BBB is the neurovascular unit which is composed of the extracellular matrix, endothelial cells, pericytes, astrocytes, microglia and neurons. The endothelial cells of the BHE, which constitute the walls of brain capillaries, are joined together by tight junctions that eliminate paracellular transport in an effective manner. These cells interact with the pericytes which are the cells which provide mechanical stability and both are surrounded by the basal lamina, an extracellular matrix which provides physical support, which is composed of laminin, fibronectin, collagen type IV and proteoglycans. The endothelial cells also interact with the astrocytic feet that surround the capillaries and are fundamental in the structure of the neurovascular unit. The basal lamina improves the tight junctions and alterations in it are associated with an increase in the permeability of the BBB. Among the factors that degrade the BBB are the metalloproteinase enzymes and specifically in a large number of pathologies the gelatinases MMP-9, MMP-2 and the stromelysin MMP-3 are increased leading to greater permeability of the BBB...
Description
Tesis inédita de la Universidad Complutense de Madrid, Facultad de Medicina, Departamento de Farmacología, leída el 21/07/2014
Collections