Publication:
Análisis de los factores asociados a la presencia de carcinoma invasivo en pacientes con adenomas avanzados o lesiones serradas: el camino hacia una vigilancia personalizada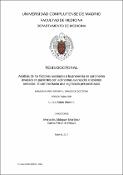 Files
Authors
Advisors (or tutors)
Editors
Publisher
Universidad Complutense de Madrid
Abstract
El cáncer colorrectal (CCR) es una entidad de extraordinaria importancia por su elevada incidencia y morbimortalidad. En España representa el tumor más frecuente si se consideran hombres y mujeres en conjunto, y constituye la segunda causa de fallecimiento por cáncer. A pesar de todo ello, el CCR es prevenible, ya que la mayoría de ellos se desarrollan a partir de lesiones precursoras, los adenomas, y disponemos de técnicas eficaces, como es la polipectomía endoscópica, para la detección y tratamiento de éstas. Existen tres vías de carcinogénesis. En la vía de inestabilidad cromosómica el factor iniciador es la pérdida del gen supresor de tumores APC al que seguiría una cadena de mutaciones de otros oncogenes. La vía de inestabilidad de microsatélites es la producida por alteración en el sistema reparador de ADN que corrige los errores de emparejamiento producidos durante la replicación. En estas dos vías la lesión precursora se considera el adenoma. Finalmente, la vía serrada es debida a la inactivación transcripcional mediante la metilación de las islas CpG (pares de citosina y guanina) promotoras de genes supresores de tumores. Esta vía surgiría de una lesión precursora diferente que es la lesión serrada...
Colorectal cancer (CRC) is a disease of extraordinary importance because of its high incidence, morbidity and mortality. It is the most common malignant tumor in Spain when men and women are considered together and the second leading cause of cancer-related death. However CRC is a perfectly preventable tumor because most of them develop from adenomas and we have effective techniques, as endoscopic polypectomy, for their detection and treatment. There are three molecular pathways to CRC. The chromosomal instability pathway starts with the loss of the tumor suppressor gen APC which is followed by mutational events in other oncogenes. Microsatellites instability pathway is driven by mutations in one of the DNA mismatch repair genes. In both pathways, the adenoma is the precursor lesion. Finally, the serrated pathway is driven by CpG (cytosine-phospate-guanine) island hypermethylation-induced silencing of tumor suppressor genes. In this case the serrated polyp is the precursor lesion. The presence of polyps is common in the general population but only a small percentage progress to cancer. This is because there are characteristics within the polyp that confer a higher malignant potential...
Description
Tesis inédita de la Universidad Complutense de Madrid, Facultad de Medicina, Departamento de Medicina, leída el 28/01/2016
Collections