Publication:
Análisis de las tendencias del ciberperiodismo: la evolución de The Huffington Post, su modelo discursivo y sus procesos de interacción con el usuario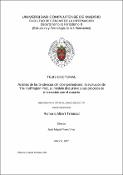 Files
Authors
Advisors (or tutors)
Editors
Publisher
Universidad Complutense de Madrid
Abstract
Esta investigación de tesis doctoral surgió a raíz de la necesidad de indagar en las nuevas tendencias del periodismo digital y de la inquietud por identificar modelos exitosos, aplicables a los medios informativos en un futuro inmediato. La utilidad de este proyecto de investigación doctoral radica en destacar cuáles son esas fórmulas que hacen que el blog periodístico T he Huffington Post sea uno de los medios estadounidenses más visitados y establecer qué elementos pueden resultar indispensables en un nuevo formato que caracterizará al periodismo del futuro a través del ciberespacio. Este estudio es un retrato en profundidad de la década de existencia del objeto de estudio desde la perspectiva del blog periodístico como nuevo medio noticioso dentro de la Sociedad de la Información. El análisis ha abarcado tres preguntas de investigación que recogen igual número de categorías de análisis: la evolución del contenido, el modelo de discurso periodístico y las posibilidades de interacción que ofrece al usuario. Mediante ellas, se ha logrado identificar, describir y proponer las pautas que caracterizan a este blog y que lo han convertido en un referente informativo, tomando en cuenta la importancia de los nuevos modelos de contenidos periodísticos vinculados a la Web 2.0 y la relación entre los medios digitales y los usuarios del ciberespacio...
This doctoral thesis research arises from the need to investigate new trends in digital journalism and the concern for identifying successful models applicable to the media in the immediate future. Right from the start the importance of conducting research that will reshape the news exercise that has been know to date was established, taking into account the presence and the impact the Internet has had on journalistic performance. The users are irretrievably transforming their tastes and ways to socialize and learn. The symbiotic relationship that the media has with its users entails the obligation to work to develop the informative formulas consistent with this metamorphosis, in all aspects of disclosure and particularly in the digital context of the network. For this reason, The Huffington Post has been studied from the perspective of journalistic news blog as a new media within the Information Society. The usefulness of this doctoral research project is to emphasize which formulas make this journalistic blog one of the most visited sites in the United States and determine which elements may be essential in this new format that will characterize the future of journalism through cyberspace...
Description
Tesis inédita de la Universidad Complutense de Madrid, Facultad de Ciencias de la Información, Departamento de Departamento de Periodismo II (Estructura y Tecnología de la Información), leída el 04-12-2015
Collections