Publication:
La influencia de los medios sociales digitales en el consumo. La función prescriptiva de los medios sociales en la decisión de compra de bebidas refrescantes en España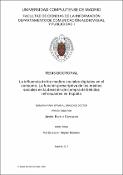 Files
Authors
Advisors (or tutors)
Editors
Publisher
Universidad Complutense de Madrid
Abstract
La evolución del mundo digital en todas sus vertientes ha provocado que las diferentes etapas en la toma de decisiones de compra hayan sido modificadas. Por un lado, el canal digital como finalizador de la transacción comercial en todos sus ámbitos, con la evolución ya asentada del comercio electrónico y por otro lado, Internet como herramienta de búsqueda de información y como elemento de prescripción. La aparición de los medios sociales ha sido el elemento definitivo que ha permitido interconectar a una velocidad elevada páginas y perfiles de empresas comerciales, lo cual ha dotado a individuos y marcas de potentes herramientas para intercambiar contenido y lo que es más importante, convertir las relaciones en bilaterales, donde el consumidor puede de manera muy directa, emitir sus opiniones ante experiencias de compra y consumo y difundirlas a millones de usuarios; ya sean otras personas u otras marcas; provocando, en este caso, un poder de influencia enorme sobre potenciales consumidores de esa misma marca. La red se ha convertido en la principal fuente de información a la hora de la toma de decisiones de compra, tanto antes del acto en sí, durante el mismo y por supuesto, la propia retroalimentación con su opinión post-compra. Por lo tanto, se hace fundamental por parte de las marcas, analizar dónde se encuentran dentro de la red y en especial de los medios sociales, todas aquellas opiniones tanto positivas como negativas, que permitan a la misma identificar cuáles son las variables decisivas por parte de los consumidores y qué opiniones vierten los mismos actuando como prescriptores o detractores de la marca...
The digital world evolution in all the shapes has caused the different stages in the shopping decisions making have been changed. In one hand, the digital channel as a commercial transaction finisher in all the activities, with the evolution of the ecommerce settled down yet; and on the other hand, Internet as an information search tool and as a prescription way. The appearance of the social media has been a definitive element who has permitted interconnect particular webs on a high speed way and commercial company profiles which has provided of powerful tools to individuals and brands to interchange content and what is more important, convert the relations in bilateral where the consumer is able to set up his opinions on a direct way in view of selling and consume experiences and to spread to millions of those entity; whether other people or other brands; running in this case an enormous power of influence above the consumer of the same brand. The network has become in the main source of information aimed to make selling decisions, either just before selling act during the same and of course, the own feed-back with his post selling opinion. Therefore, it is main on hands on behalf of the brands to analyze where are placed into the network and special in social media, all those positive and negative opinions which ought to identify which are the decisive variables of the consumers and what opinions drop off themselves acting as prescriber or detractors of the brand...
Description
Tesis inédita de la Universidad Complutense de Madrid, Facultad de Ciencias de la Información, Departamento de Comunicación Audiovisual y Publicidad I, leída el 04/02/2016
Collections