Publication:
Rock progresivo en España como contracultura en los años del tardofranquismo: Canarios y Ciclos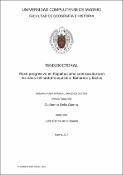 Files
Authors
Advisors (or tutors)
Editors
Publisher
Universidad Complutense de Madrid
Abstract
Este trabajo ha pretendido ser una contribución a una incipiente línea de investigación desarrollada desde la universidad española en torno a la música popular urbana. Aunque el estudio se ha centrado principalmente en el análisis del trabajo discográfico de Canarios, titulado Ciclos (1974), las conclusiones y nuestro trabajo podrán servir para futuros estudios sobre la música popular, en general, y el rock progresivo en España, en particular. Se han empleado tres procesos metodológicos principales: la lectura de las fuentes que han tratado el tema del rock progresivo, el pop-rock español, la contracultura en España y los procesos en los cambios musicales; el segundo integra el análisis musical, tanto de las formas musicales de expresión como de las formas paramusicales; y el tercero ha sido el trabajo de campo, que ha constado principalmente de una entrevista grabada en audio y video al principal creador de Ciclos (Eduardo Bautista). El primer objetivo de nuestro trabajo ha sido contrastar la idea de "retraso" del pop-rock español (un desfase que supuestamente sería solamente superado a partir del cambio político a finales de los años setenta) y que ha calado en un sector de la prensa musical. A partir de mediados de la década de los sesenta el pop-rock español fue asimilando las nuevas modas y corrientes estilísticas que se estaban produciendo en Estados Unidos y el resto de Europa...
This work intends to contribute to an incipient line of investigation developed by Spanish Universities around popular urban music. Whilst this study mainly focuses on the analysis of the album by the band Canarios entitled Ciclos (1974), it could serve as a basis for future studies on popular music, in general, and Spanish progressive rock in particular. Three methodologies were used: first, a desk-review of sources on the topic of progressive rock, Spanish pop-rock and counterculture, as well as processes of musical change; second, an analysis of musical and para-musical forms of expression; and third, field work consisting in an audio and video interview with the main author of Ciclos. The first objective of this work was to contrast the emergence of progressive rock in Spain with the idea of "delay" in Spanish pop-rock, which would purportedly only be overcome with the political changes of late 70's. In fact, after mid-70's, Spanish pop-rock started assimilating new trends from the USA and the rest of Europe. At that time, Spain was experiencing many social and cultural changes: psychedelic rock and the counterculture ideology of the hippy movement were introduced as well as musical and social changes in pop-rock music. Without them, it would not be possible to understand Spanish progressive rock in the following decade...
Description
Tesis inédita de la Universidad Complutense de Madrid, Facultad de Geografía e Historia, leída el 10/02/2016
Collections